Bitcoin Price Analysis: BTC Breaches $20K, Time to Buy?
Read our comprehensive Bitcoin Price analysis along with the latest Twitter and Reddit discussions.
Bitcoin is trading higher and once again the overall market cap of Bitcoin is over $400 B. In the last 24 hours, the crypto market has finally recovered despite the US inflation hitting the highest in the last 4 decades.
The market analysts predicted the crypto market to fall after the latest inflation number but the market is acting exactly the opposite and it is trading higher. The overall crypto market cap is now over $900 B and in the last 24 hours, the total crypto market volume is $80.46B, which is an increase of 7.39% in the last 24 hours.
Talking about Bitcoin, 24 hours ago, BTC was trading below $20,000 and the overall outlook was bearish. But there has been a recovery and the price started to surge. Currently, Bitcoin is trading close to $21,000 and if the current momentum continues, BTC price will breach $21K in the next few hours.
For Bitcoin, in the last 24 hours, there has been a surge of over 5% in the overall market cap and the trading volume is higher. Bitcoin remains the No. 1 cryptocurrency in terms of overall market cap. Its market dominance remains over 40% currently.
The last 24 hours saw the Google search volume for Bitcoin rising and the social media sentiment for Bitcoin has turned positive. The overall buzz is also higher. The technical recommendation for the next few hours is BUY.
Bitcoin Price Analysis: Market Cap and Trading Volume
| | | |
| --- | --- | --- |
| | Value | Trend |
| Market Cap | $ 398 B | Higher |
| Trading Volume | $ 41.4 B | Higher |
Bitcoin Price Analysis: Twitter Buzz
Originally tweeted by c h b w t (@chabiwit) on July 15, 2022.
Would be nice to take some profits from here on $BTC, weekend is also approaching. Unsure if it goes higher or dump like hell.

Will be off on weekends as always, and back on Sunday evening to check the charts in preparation for the next coming week.
Cheers! 🥂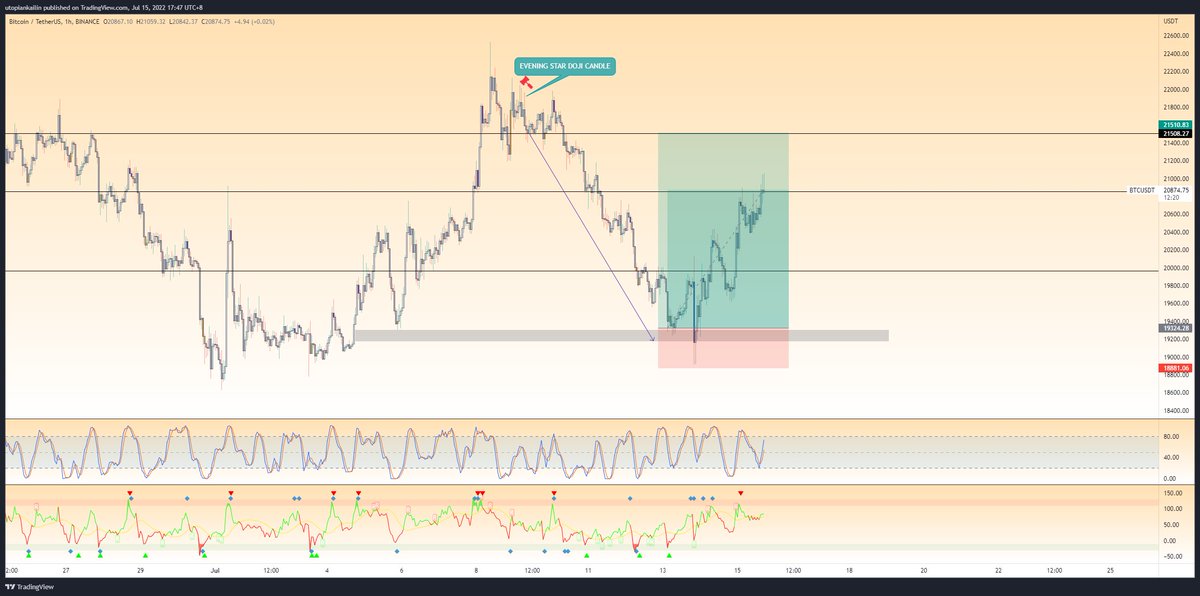 Originally tweeted by Dr. ₿arnes (@DrBarnes18) on July 15, 2022.
$BTC

In all seriousness, this is my base case for the next 24 months. Of course, it's subject to change – but, this makes the most sense to me at this point in time

Bitcoin Price Analysis: Reddit Conversation
The Reddit discussion for Bitcoin in the last 24 hours has been around the bottom that BTC would reach. One user with the name Kcarmstrong pointed out that the Bitcoin bottom is yet to be hit. As per the user, the recent drop of Bitcoin price to $17,500 was not the bottom and the user blamed the ponzis and the scams built around crypto to be the main reason for the current market situation.
The other user talked about the Bitcoin price going below $20,000 today. The user quoted, " We may go below 20K today, boys. Don't fear, in fact, 10-12K is possible and likely. Just stack sats, short, and do what you need to do. We'll still see mid-6 figure BTC in 5 years."