Hideaways Price Prediction: Will the real-estate-driven NFT platform touch the skyline post-launch?
Hideaways has successfully completed its pre-sale by allocating its 34% of total toke supply.
Hideaways Price Prediction: About Hideaways
Hideaways is a crypto platform that provides the opportunity for users to invest in luxury properties across the world. And the good thing is that the users can invest for as low as $100.
It allows the minting of fractionalized NFTs to help traders to obtain passive income through real-world properties. Users can stake their HDWY tokens on the Hideaways marketplace to get rewards.
Hideaways focus on the below-mentioned three major problems of the traditional estate:
High start-up capital- Real estate investments traditionally required a huge capital to start with. On the contrary, Hideaways allows users to start investing from $100 only. It is achieved through the fractionalization of the non-fungible tokens.
High transaction fee- Users need to provide a huge amount to middlemen while investing in real estate. Instead, of putting money in the middlemen, with Hideaways, investors can even earn passive income through HDWY tokens.
Geographical limitation- Users most of the time purchase property in their country (or location) only. On the other hand, Hideaways provides its users' with exposure to global real estate via the tokenization of real estate.
Below mentioned are the few primary use cases of the HDWY token:
HDWY tokens provide voting rights to their holders to decide the governance of the platform.
Users can stake their HDWY coins to get rewards.
The tokens can be used to buy fractionalized non-fungible tokens underpinned by real estate.
Note that all the HDWY tokens issued by Hideaways can also be traded on secondary markets.
Hideaways Price Prediction: Recent Twitter buzz
For a few days, people are actively talking about HDWY crypto on Twitter. However, there can be seen mixed views from different users.
Few users seemed to like the innovative idea of the project and looking forward to it. Whereas very few users are even suspicious of the project.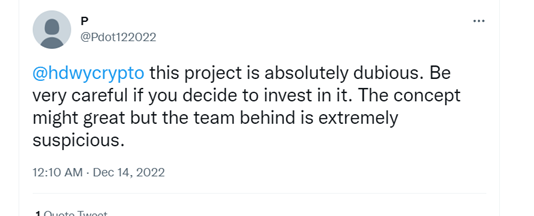 Image Source: Twitter
Competitor analysis
One close competitor of Hideaways is Labs group. Launched with the aim to revolutionize real estate using blockchain, the Labs group makes use of web3 to make real estate accessible to everybody.
Labs group uses Web3 for making transactions through digital assets and hence, bridging the real estate industry with blockchain technology. It also facilitates investors to access borderless investments across the world via secondary markets.
The labs' group benefits the two groups i.e., property owners and investors. For instance, property owners can easily raise capital by tokenizing their properties. They don't need financial intermediaries for the purpose. On the other hand, investors can globally invest in real estate property with instant transactions.
Hideaways Price Prediction: Price movements of HDWY's competitor
Let us also analyze the price history and movements of LABS (the notable competitor of HDWY).
Performance in the last 1 year: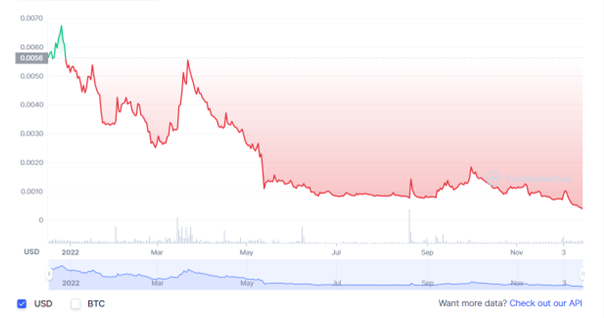 Image: 1-year graph of LABS
As we can see in the graph attached above, the price of LABS a year ago was $0.0056, meaning that the price declined by more than 93% in one year (though the decline wasn't very consistent throughout).
Performance in the last 3 months:
Image: 3-month graph of LABS
Its 3-month data indicates that its price has declined by around 64.54%.
Performance in the last month:
Image: 1-month graph of LABS
The price of LABS coin has fluctuated a lot in the last month, indicating a decline of nearly 60.6% in one month.
LABS group's performance since a year indicates that its price has severely declined since then. Moreover, it is 99.5% below its all-time high price of $0.095.
Hideaways Price Prediction: Frequently Asked Questions
Where can HDWY pre-sale tokens be purchased?
Where will $HDWY be launched after the pre-sale period?

Once the pre-sale period is over, HDWY tokens will be first launched on UniSwap.
Hideaways Price Prediction: Current market scenario for the crypto to be launched
Reports say that the global real estate market size is expected to grow at a Compound Annual Growth Rate of 1.8% by the end of 2028. The growing real estate market means that there is a growth potential for real estate investment platforms as well.
Traditional real estate investment, it requires at least 10% to 25% of the property's value to be invested as initial deposits. However, with the use of crypto real estate investment platforms, such as Hideaway, it is possible to start the investment even with $100 (which is indeed a good thing for common investors).
Moreover, the NFT industry is also expected to grow at a CAGR of 35.7% by the end of 2028, which is again a positive thing for Hideaway. However, there is also a very similar blockchain-based real estate investment platform i.e., the labs group, which is very much similar to Hideaways. It means that the market is already a little competitive for HDWY to be launched. Therefore, it would be interesting to see the price movements of the coin in the coming years
~Charu Taneja
Note: Crowdwisdom360 collates Predictions and data from all over the net and has no in-house view on the likely trends in the Stocks or Crypto Coins. Please consult a registered investment advisor to guide you on your financial decisions.