Is now a good time to buy Ethereum?
Is now a good time to buy Ethereum? The answer is YES but with a few caveats. Read through this really short fact-based analysis
Is now a good time to buy Ethereum? Is this the bottom?
While there are 2-3 reasons to believe Ethereum reached the year bottom last Saturday, the evidence is not definitive. Our Bitcoin analysis suggests that Bitcoin will probably start to go up in the 4th quarter of this year. Ethereum too should begin to go up then. Why 4th quarter?
We expect inflation to start easing by the 4th quarter
Crude Oil prices should either steady or start to fall by the 4th quarter
Any Alts or Crypto companies that may fail are likely to have failed by then. Basically, we will have gone through all the bad news
Is now a good time to buy Ethereum? Can it get worse?
Ethereum has lost nearly 70% value since the ATH of 2021. ETH started to trend lower from the day US Inflation breached the 6% mark. But with the Fed increasing rates twice in 4 weeks, the chances of inflation continuing to remain high have diminished. Therefore, the probability of Ethereum crashing another 30-50% is lower than say 4 weeks ago.
Is now a good time to buy Ethereum? Ethereum's Track Record
Ethereum in its current Avatar has delivered positive returns in 3 out of the last 6 years. All the failure years were related to the Fed reducing the size of its balance sheet
Is now a good time to buy Ethereum? Therefore…..
There is a high probability of Ethereum falling further as there is no visibility on inflation yet. It could also fall if some crypto or crypto-related business collapses in the next few weeks
Unlike BTC, Ethereum has an uneven track record of success over the last 6 years and is far more susceptible to external factors
It does not make sense to invest now but if you must, probably in manageable volumes as the above risks remain
"Everyone Is SO WRONG About This Market" | Mark Cuban Reacts To Crypto, Bitcoin & Ethereum Crash
Originally tweeted by Jonny Moe (@JonnyMoeTrades) on June 21, 2022.
I tp'ed the $ETH long $1180s

Was looking for a more extreme impulse out of the pattern, especially on an up US market open

We got the breakout but it's relatively muted, so playing it safe and locking it for now, we're still not out of the woods

FWIW I'm also terrible at holding longs through the slow grindy upward PA, it's just not my strength

Others might feel more comfortable continuing to hold here for more upside, but not my thing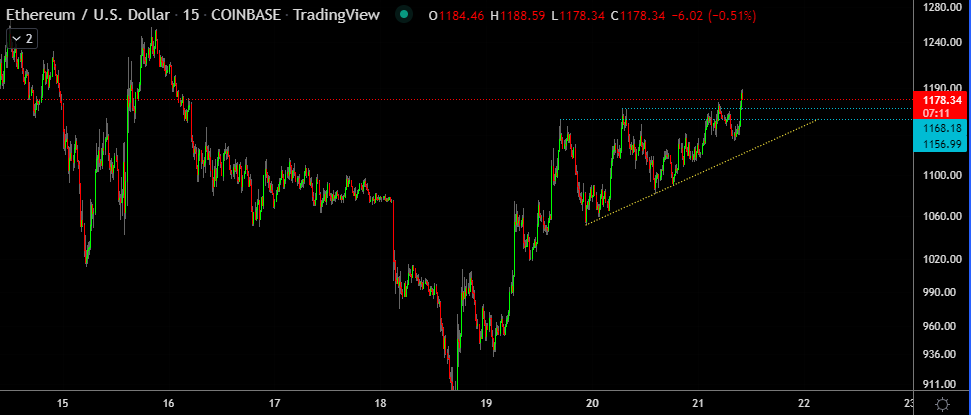 Check out Ethereum Price Prediction here
Note: Crowdwisdom360 collates Predictions and data from all over the net and has no in-house view on the likely trends in the Stocks or Crypto Coins. Please consult a registered investment advisor to guide you on your financial decisions.