Los Angeles Lakers vs Denver Nuggets: NBA Odds and Predictions
The Denver Nuggets is set to face a massive challenge in Los Angeles Lakers in an interesting Western conference game. The Denver Nuggets have found themselves in a hole after a glorious run in 2019 as they struggle to notch up wins.
On the other hand, Los Angeles Lakers who are the reigning champions have proven as to why they are one of the favorites to win the championship once again.
 The hosts would be looking to put behind their previous dismal performance against quality oppositions, with the visitors who are the hot favorites have a good opportunity to top the conference.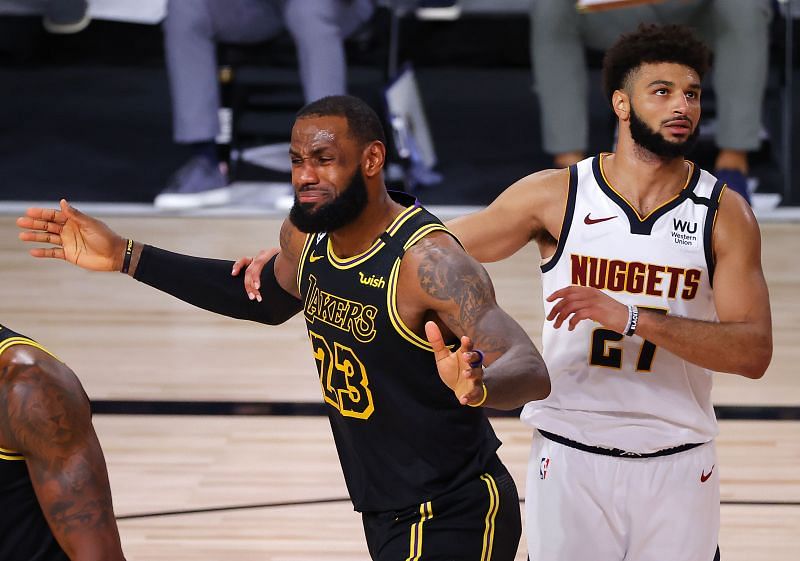 Lakers go in this game with 58% chances of winning while Nuggets have 42% chances of beating Lakers. The latest Los Angeles Lakers vs Denver Nuggets: NBA Odds and Predictions will be updated on the game day.
Los Angeles Lakers vs Denver Nuggets: NBA Odds and Predictions: Players to watch out
Nuggets:
Nikola Jokic who plays at the center position was in good form Oklahoma Thunder by pitching in with 22 points and 9 assists in 37 minutes.
Jamal Murray who is the point guard has a 3-pointer conversion of 34.1% so far in addition to averaging 18.1 points.
Michael Porter Jr. who plays as the small forward and power forward has a field goal percentage of 51 and a free throw percentage of 80.8 in 14 games this season. He has also averaged 6.4 rebounds per game during the same time.
Monte Morris who has played at the point guard has tons of experience in NBA with an average of 11.1 points and 3.5 assists in his career.
Lakers:
Despite not completely fit their power forward Anthony Davis scored 35 points against Grizzlies with the onus still pretty much on LeBron James to carry the side.
The NBA MVP leader has averaged 25.5 points per game and 7.9 assists per game. Dennis Schroder has been one of the better guards for the side with an efficiency rating of 13.28.
Montrezl Harrell was the sparkle in the middle after he scored 14 points and 7 rebounds in his last outing.
Kentavious Caldwell-Pope who plays as the shooting guard has a field goal percentage of 46.3 and a free throw percentage of 84. He is expected to fare better than 8.9 points per game this season.
Los Angeles Lakers vs Denver Nuggets: NBA Odds and Predictions: Recent form
The Denver Nuggets came into the season with a lot of self-belief and confidence, after a successful stint in the 2019-20 season. They have done a good job so far but it isn't sufficient if they have to make inroads into the post season games.
They had a disastrous start losing to Kings and Clippers but made sure that it didn't affect them as they contained the momentum. In the last 5 appearances, they lost the first three without much of a fight but have managed to stage a comeback in the next two that has instilled back the belief. They are currently aiming for a spot in the top 5 with a 0.56 win-loss record.
The reigning champions who were underwhelming in certain patches seems to have sorted the issues as they are going strong in the Western Conference. The return of Davis would have done a world of good for the team.
They notched up some important victories early in the year along with some hiccups here and there. They are currently on a 7-match winning streak stretching back to 29th January where they lost to Pistons. With an important encounter in their radar, they would be looking to grab their 22nd win of the season on Sunday night.
Los Angeles Lakers vs Denver Nuggets: NBA Odds and Predictions: Head-to-head:
Regular season (179 games): Nuggets – 71 wins, Lakers – 108 wins.
Playoffs (33 games): Nuggets – 8 wins, Lakers – 25 wins.
Previous meeting: Lakers won 117-107 on 26th Sep 2020 in a playoff fixture.
Los Angeles Lakers vs Denver Nuggets: NBA Odds and Predictions: Predicted Winner
Irrespective of the odds and predictions, it is pretty clear that the Los Angeles Lakers are in a solid position to go deep for the second year while the Nuggets have their task cut out to win the NBA title. The famous prediction platforms like Oddschecker and SMarkets have also stated the same, giving a big chance to the Lakers to grab their 2nd title in two years.
The surprising thing here is that the Nuggets have been given a superior chance to win this game with Lakers right behind with a 42% chance, according to FiveThirtyEight.
Read: Brooklyn Nets vs Golden State Warriors NBA Odds and Predictions