Decentraland MANA Prediction: Revised 2022 Prediction is $1.33(Revised Lower)
Latest Mana USD Price
MANA Prediction: Performance chart
According to the current market analysis, Mana has been trading higher for a few days. Mana's price has started surging and the volume turned green. The Technical recommendation for the day is to buy. The current momentum is predicted to be bullish. The rank of Mana for today is 33. Today mana is up by 7.57% in the last 24 hours. Overall Mana is rising compared to yesterday.
| | | | | |
| --- | --- | --- | --- | --- |
| Time Period | BTC | Mana | Ethereum | Cardano |
| Last 5 Days | +2.40% | +2.11% | +8.99% | +1.86% |
| YTD | -57.3% | -72.9% | -69.5% | -66.2% |
MANA Price Prediction: Volume and Market Cap
| | | |
| --- | --- | --- |
| | Volume | Market Cap |
| July 4th | $198M | $1.67B |
| July 1st | $216M | $1.53B |
| June 1st | $250M | $1.81B |
| May 1st | $315M | $2.82B |
| April 1st | $523M | $4.87B |
| March 1st | $1.01B | $5.19B |
| February 1st | $944M | $4.90B |
| January 1st | $295M | $6.10B |
MANA Price Prediction: Technical Analysis
Latest Video on Mana Technical Analysis
Mana search has been lower as compared to its last 24 hours level.
Latest Decentraland Mana Tweets
Originally tweeted by Crypto Volume (@abnormal_crypto) on July 4, 2022.
#MANAUSDT Bull Alert!

5X Volume
Price: 0.9084
5-min %: 0.99%
Volume: $459,601

#crypto #whale #btc #eth #MANA $MANA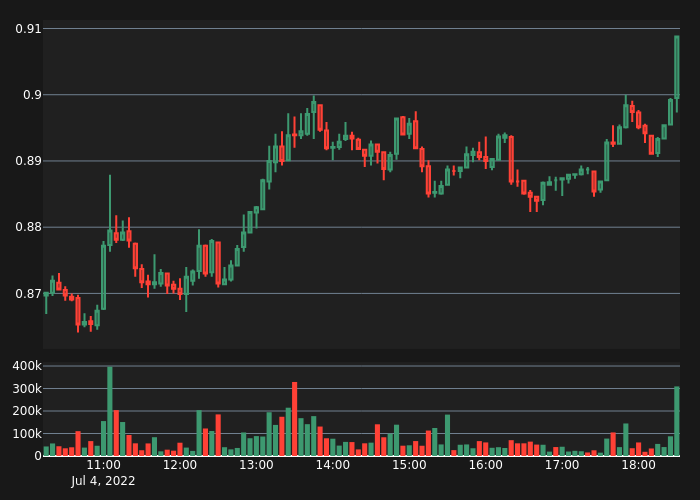 Originally tweeted by JAVON⚡️MARKS (@javonnnm) on July 4, 2022.
⚠️#MANA's 6h chart returning with signs of STRENGTH and may be ready for ANOTHER WAVE towards the target at $1.355!

With $MANA currently holding broken out, this target is in play and price can climb over 45% to meet it!

Pullback may only strengthen #Decentraland's climb!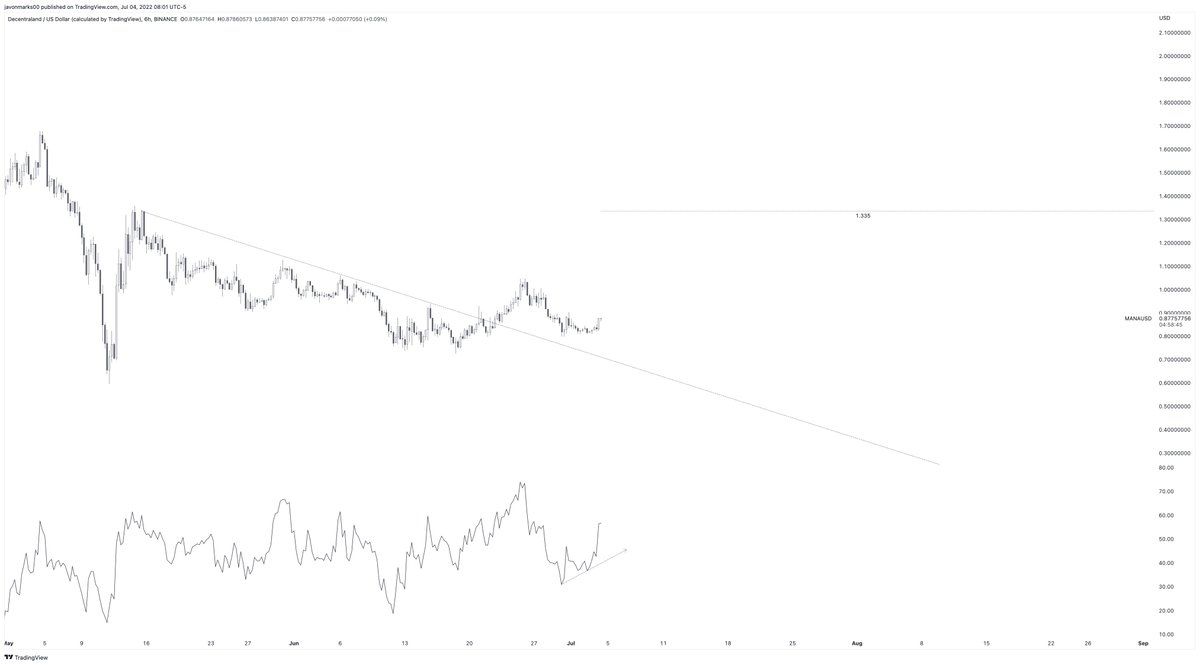 MANA Price Prediction 2022: Experts Prediction
MANA Coin Price Prediction 2023: Experts Prediction
MANA Price Prediction 2025
Decentraland Price Prediction: Is Mana a Good Investment?
Decentraland Mana has been a good investment in 2022. However, the metaverse token has crashed since attaining the all-time high in November. Recently the news of Samsung tying up with Decentraland for their upcoming Metaverse project led to Mana gaining its trading value. But the gain was limited and did not translate to a higher gain.
Regarding the investment in Mana, the token has gained in the last 6 months' recent crash. With major tech companies venturing into the field of Metaverse, it is likely the popularity of Mana to rise more among the investors as it is one of the best Metaverse tokens. Therefore the investment in Decentraland Mana is highly profitable but it is advisable to make a market assessment before making any financial move.
Decentraland Price Prediction: Some Facts
Decentraland was created by Argentinians Ari Meilich and Esteban Ordino and has been developing since 2015.
A cryptocurrency that facilitates purchases of LAND, as well as virtual goods and services used in Decentraland.
Using Decentraland, users can create scenes, graphics, and challenges as well as trade digital assets including LAND, estates, and avatar apparel.
Read: Ethereum Price Prediction
Note: Crowdwisdom360 collates Predictions and data from all over the net and has no in-house view on the likely trends in Stocks or Coins. Please consult a registered investment advisor to guide you on your financial decisions.