Milwaukee Bucks vs Toronto Raptors: NBA Odds and Predictions 18 February
The Milwaukee Bucks are set to play their 29th game of the 2020 NBA season against Toronto Raptors on 19th February at the Fiserv Forum Arena. The Milwaukee based side has done a tidy job so far and are looking to extend their 9-3 home record on Friday.
On the other hand, the giants Toronto Raptors have managed to claw their way back after succumbing to defeats in the initial few games.
Despite looking long off from a play-off spot, they are highly competitive currently. Even though the Bucks are favored in the odds and predictions, the hosts are known to spring surprises.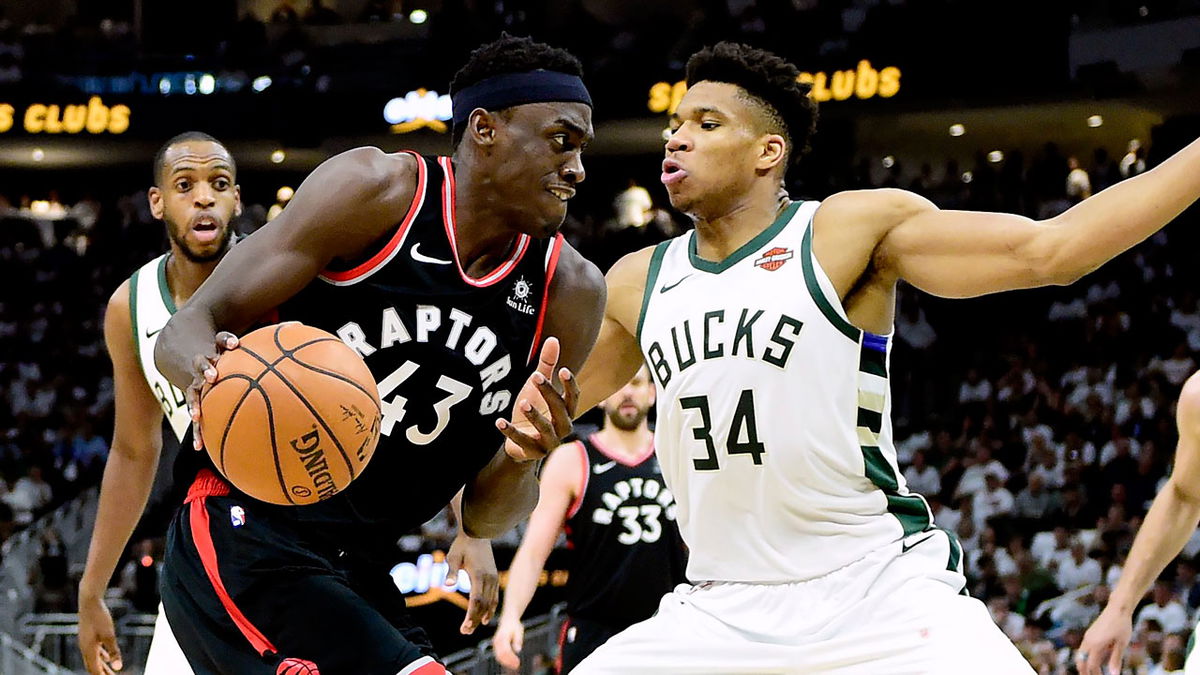 FiveThirtyEight predicts 68% chances for Milwaukee Bucks victory as per their Milwaukee Bucks vs Toronto Raptors: NBA Odds and Predictions. However, we will update the latest NBA Odds and predictions for this game on match day.
Milwaukee Bucks vs Toronto Raptors: NBA Odds and Predictions: Recent form
The Milwaukee Bucks are once again having a big season after making it to the conference finals in the previous final. They started on a wrong foot after losing a thriller against Boston Celtics but made sure they staged a comeback against Warriors in the second.
Despite experiencing some turbulence initially, they were back to their best as they stringed some important victories in January. Looking at their recent games, it seems like they have hit a roadblock after dropping off from the top spot as they lost the last 4 out of 5 games. They are still hanging in 3rd place with 16 triumphs and 12 losses so far.
The Toronto Raptors would probably want to replicate their 2018-2019 performance from hereon after an unimpressive start to this season. They struggled to come out on top in the first three games but they finally experienced their first victory against Knicks.
Their bad form resumed yet again with three consecutive defeats that left a big dent to their confidence. But their February campaign has been a lot better with 7 victories so far against sides like Magic, Nets, Grizzlies and Bucks. This meant that they have currently moved up to the 7th position with 13 victories and 15 losses in the Eastern conference.
Milwaukee Bucks vs Toronto Raptors: NBA Odds and Predictions: Head-to-head:
Regular season (94 games): Raptors – 40 wins, Bucks – 54 wins.
Playoffs (12 games): Raptors – 8 wins, Bucks – 4 wins.
Previous meeting: Raptors won 124-113 on 16th February 2021 in a regular season fixture.
Milwaukee Bucks vs Toronto Raptors: NBA Odds and Predictions: Players to watch out
Bucks:
Jrue Holiday has played 23 games as a point guard/shooting guard with an average of 16.4 points per game and a field goal percentage of 50.2% in this edition.
Giannis Antetokounmpo's performance will be the decisive factor for the Bucks as the versatile player with 28 points per game and 11.5 dribbles in every outing. He scored 34 points and 8 assists against Raptors.
Donte Divincenzo who will be the shooting guard has averaged 9.8 points in every outing and has to step up in the coming games for the side to succeed.
Khris Middleton who was in top form for the side in 2019 has a top rating of 86 averaging 20.7 points per game along with 5 successful defensive rebounds in 27 outings.
Raptors:
Pascal Siakam who is the power forward has been a regular contributor averaging 20.5 points in addition to 7.5 rebounds and 4.5 assists per game in 24 appearances.
Kyle Lowry is an important point guard with a field goal success of 44.7% and a 3-pointer conversion of 38.2% so far. He is the prime assist in the side and was there on the pitch for 33 minutes against Bucks. Norman Powell has played 25 games, securing 16.5 points per game in addition to a free throw percentage of 87.4. Aron Baynes who has played at the center position has tons of experience in NBA with an average of 5.6 points and 5.5 rebounds per game in his career.
Milwaukee Bucks vs Toronto Raptors: NBA Odds and Predictions: Predicted Winner
The Milwaukee Bucks are looking like strong contenders to go deep in this edition while the Raptors need to step up if they have to stand a chance this season. Looking at this rivalry, Milwaukee Bucks are clearly ahead with a 68% chance whereas the Toronto based club are behind with a 32% chance, according to FiveThirtyEight.
According to Oddschecker and SMarkets, the Milwaukee Bucks are the third favorites in this season just behind Lakers and Clippers while the 2018-19 NBA champions Toronto Raptors have the 7th best chance to win the NBA championship.
Read: Los Angeles Lakers vs Brooklyn Nets NBA Odds and Predictions