When will Bitcoin go back up?
When will Bitcoin go back up? How low will it go? Will it be back up in 2022?
How low will Bitcoin go?
It is increasingly likely that BTC reached its 2022 lowest on June 18th at $17.7k
Using correlation with inflation data, our forecast was that Bitcoin could fall as low as $15k. This assumes consumer inflation will rise to 9% next month. However, with crude oil prices falling, it is possible US consumer inflation will not rise much higher than last month.
There is a high degree of correlation between Crude Oil and Bitcoin prices. Crude oil prices began to rise on December 20th, 2021. Between December 20th, 2021, and today, Brent crude rose 61%, and BTC has fallen 58%. In many ways, Bitcoin and Crude Prices mirror each other and move in opposite directions
Other data support the hypothesis that BTC reached its lowest last week.
Will Bitcoin go up?
It is increasingly likely that Bitcoin will rise again in 2022. However, the pace of rise is debatable.
Two weeks ago, the Fed increased interest rates by 0.75% with a promise of more to come. It is expected that inflation will begin to fall over the next 2 to 3 months in response to the Fed's repeated rate hikes (more ahead). This should increase investor confidence.
BTC at $21k is just 30% of what it was last year. This would be a fantastic opportunity for those investing for a 3-5 year period. Afterall, BTC has had just 2 bad years in the last 10.
With a market cap of less than a Trillion, Bitcoin makes up for almost nothing in the Global Investment portfolio. So the opportunity is immense.
However, some experts disagree
Peter Schiff claims BTC will go to $12k
Goldman Sachs placed a sell on Coinbase suggesting that Crypto prices will not recover quickly
JP Morgan claims miners are in distress suggesting increasing trouble for the industry
Originally tweeted by Rekt Capital (@rektcapital) on June 27, 2022.
According the Three Macro Triangles, #BTC is now in the Downtrend Acceleration phase in an effort to form a generational bottom

Read more about the Three $BTC Triangles in my latest newsletter:

https://rektcapital.substack.com/p/the-three-bitcoin-triangles?sd=pf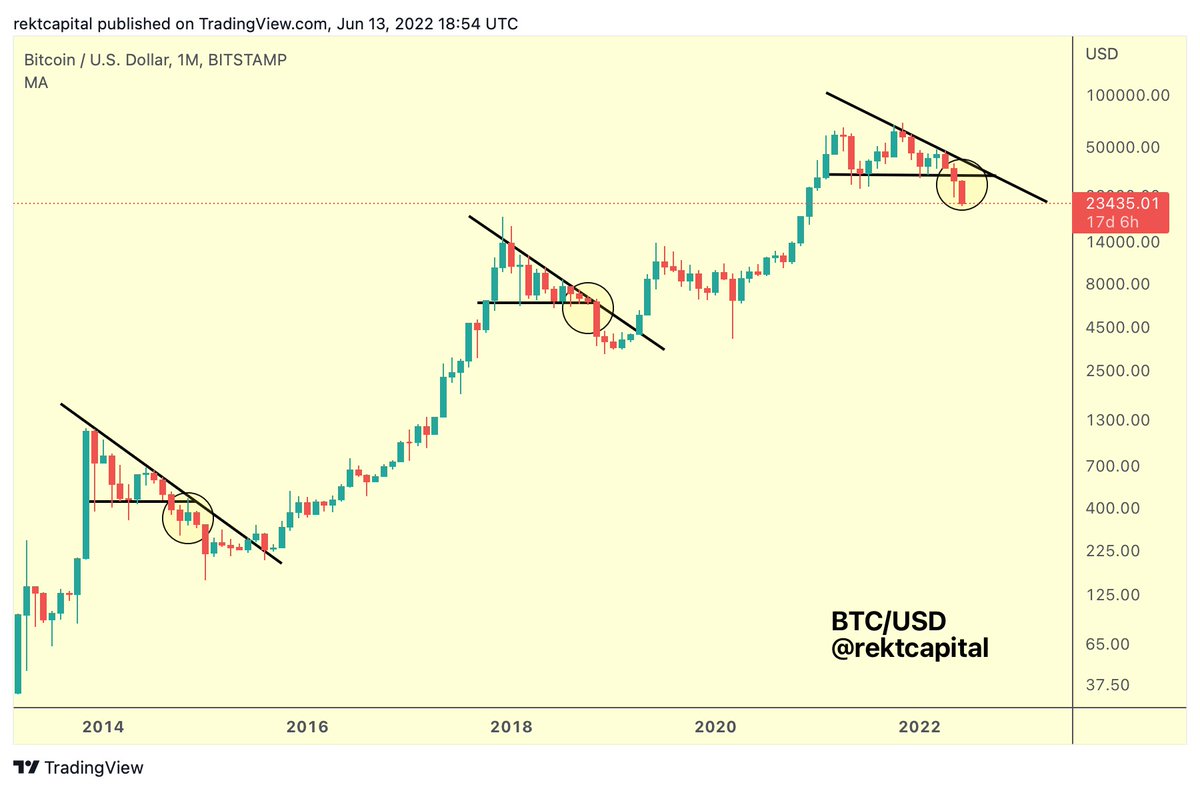 When will Bitcoin go back up?
There are two macro data sets that could indicate that Bitcoin will go back
Inflation data to be released on July 13th should show an improvement
Before that, any move in Crude Oil Prices lower towards $100
The question is when is US inflation expected to fall?
The OECD projects inflation (17 affluent countries) to peak during the summer of 2022 and then fall lower.
Kiplinger too claims inflation will peak in the summer and then taper down
We know Crude prices are also expected to fall in the 3rd or 4th quarter this year according to the US Energy Agency EIA.
So one can say from the information we have that, Bitcoin prices are likely to rise again from September-October this year.
Under what conditions could these forecasts be wrong? Unpredictable turn related to the Russian Invasion of Ukraine, New Geopolitical Crisis not seen at the moment, new food-related supply chain issues, unpredictable weather conditions impacting food supply, Political gridlock or showmanship in the US owing to the November elections.
To know more about Bitcoin as a class of Investment, read our article on Bitcoin Price Prediction and Forecast
Note: Crowdwisdom360 collates Predictions and data from all over the net and has no in-house view on the likely trends in the Stocks or Crypto Coins. Please consult a registered investment advisor to guide you on your financial decisions.
Featured Photo by Karolina Grabowska on Pexels.com