Will Shiba Inu reach 1 Cent, 50 Cents? Shibarium and Burn could Push Shib higher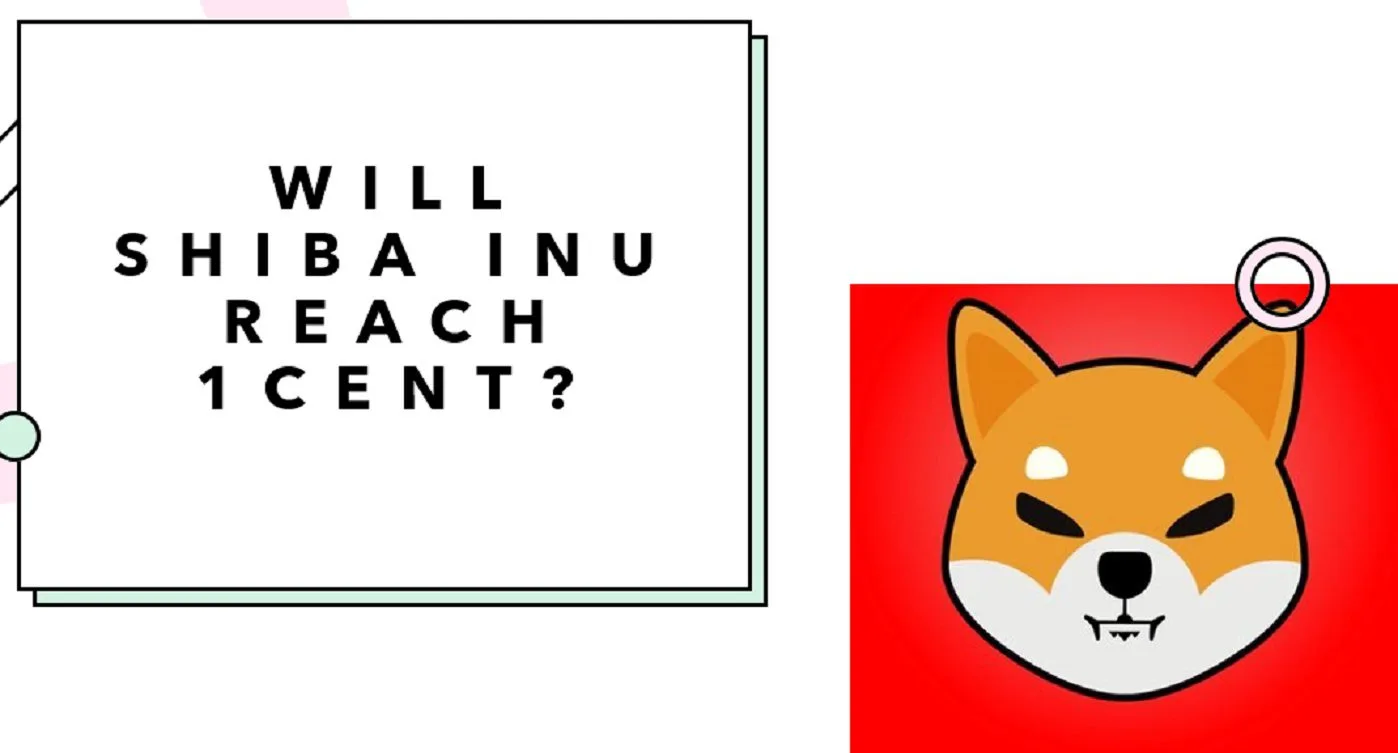 Will Shiba Inu reach 1 cent? Shiba Inu will have to rise 1250 times from the current price to reach 1 cent. SHIB can reach 1 cent in 28 years assuming 50% burn and implementing current development plans. However, at 1 Cent, Shib's market would be $5.6 Trillion, perhaps an unrealistic target
Will Shiba Inu reach 1 cent by 2025? No, Shiba Inu will not reach 1 cent by 2025.
Will Shiba Inu reach 1 cent by 2030? No, Shiba Inu will not reach 1 cent by 2030.
Can Shiba Inu reach 50 Cents? In theory, this is feasible but in practice, this would be quite difficult.
---
Latest Shiba Inu Price
The Shib community is one of the most well-organized communities in the cryptocurrency market driving the cryptocurrency towards delivering more value to users and not remaining a meme coin. A big area for the community is given that in the year 2021, Shiba Inu had risen 60 times in 6 months, Can Shiba Inu reach 1 cent?
Shiba Inu Price Performance
Last 30 Days: +46.7%, Outperformer*
3 Months: -1.7%, Underperformer
1 Year: -44.8%, Underperformer
*Vs Ethereum
Will Shiba Inu reach 1 cent? Detailed Analysis
Is Shiba Inu a Good Investment? Read Here
Before we do the simulation, here are some facts
Ethereum rose 1400 fold in the last 6 years
Solana rose 100-fold in 2021 alone
At 1 Cent, Shiba Inu's market cap would be $5.6 Trillion.
How many times does Shiba Inu have to rise to reach 1 cent? 1250 times
Looking at the above data and combining it with an active burn program, it is not unrealistic to expect Shiba Inu also to rise 1250 times. If we assume 30% growth, SHIB can reach 1 penny in the next 29 years. This growth can occur only if there is an active burn program.
That said,
30-year forecasts are completely unreliable
Predicting a market cap that runs into Trillions even 30 years from now is highly speculative
How much is 1 million Shiba Inu worth if it hits 1 cent
1 Million Shiba Inu will be worth $10,000 if Shiba Inu hits 1 cent
How much is 10 million Shiba Inu worth at 1 cent
1 Million Shiba Inu will be worth $100,000 if Shiba Inu hits 1 cent
Can Shiba Inu reach half a cent?
Yes, Shiba Inu can reach half a cent by 2047.
How High Will Shiba Inu Go?
It will be highly difficult to answer "How High Will Shiba Inu Go" but as of now the main target of the Shiba Army is to push the price of Shiba Inu to 1 cent. Here are the scenarios of how Shiba Inu could reach different milestones:
If the Shiba Inu price increases by 30% annually it will take 29 years for Shiba Inu to reach 1 cent.
If the Shiba Inu price increases by 50% annually it will take 18 years for Shiba Inu to reach 1 cent.
If the Shiba Inu price increases by 30% annually it will take 38 years for Shiba Inu to reach 10 cents.
The Shiba Inu team announced that Shibarium will be launched soon, details here
Will Shiba Inu reach 1 cent? Triggers
Shiba Inu's triggers for reaching 1 cent can be split into 4 broad buckets
1. Macroeconomic Factors
Once there is an improvement in the market condition we may see Shiba prices rising higher. For example after the Federal Reserve Chairman's statement that the pace of rate hikes would ease going forward. Shib rose 3% after that.
2. Development Plans
Many projects will help Shiba Inu reach 1 cent. These projects include:
Shiba Eternity: Shiba Eternity is a collectible card strategy game that enables players to earn rewards. The Shib team was pleasantly surprised by its performance so far.
Shibarium: Shibarium is a Layer-2 blockchain (on Ethereum) and will overlay all the development work around Shiba Inu whether it is the Metaverse Gaming or NFT projects. Shiba Inu is currently based upon the ETH blockchain which means the gas fee for every SHIB transaction is higher. Shibarium, therefore, becomes one of the most exciting projects not just for the Shiba Inu developers but also for the Shib investors. Shibarium is expected to be Shiba Inu's own Layer 2 blockchain which will help it get rid of the expensive ETH L-2 blockchain.
Shibverse: Metaverse is turning out to be one of the most talked-about projects currently. Shiba Inu also has ventured into the metaverse with its own metaverse project called Shibverse.
Doggy Dao: As per the definition from Wikipedia, DAO (Decentralized Autonomous Organization) is an organization represented by rules encoded as a transparent computer program, controlled by the organization members, and not influenced by a central government. As the rules are embedded into the code, no managers are needed, thus removing any bureaucracy or hierarchy hurdles. DoggyDAO's first phase is live but there is no official announcement for the 2nd phase of DoggyDAO.
3. Partnerships and Community
Coingate has partnered with WIX for Crypto payments. SHIB is available on Coingate. Shib has also hinted at a potential partnership with Bugatti. Shiba Inu recently partnered with VISA and enters the billion dollars payment market. This integration can potentially increase the use cases of SHIB tokens and hence, can help its price move upward. Some 715 Merchants accept Shiba Inu Payments
In a recent Reddit discussion on Shiba Inu burn, users, seem to have mixed thoughts. One user claims that every burn can help rising the price of the token, while another user thinks that the burn was a mere $16.
However, even a small token burn can affect the token's price, no matter how little it may be. Shiba Inu needs more such token burns to help its price reach 1 cent soon.
4. Shiba Inu Burn and Whale Action
Shiba Inu Burn: Shib burn will also help boost the price of Shiba Inu.
Whale Action: The other factor that will help Shiba Inu reach 1 cent is the Whale action. In the past, Shiba Inu whales have played an important role in boosting the price of Shiba Inu. However, once the market condition deteriorated, the Whales abandoned Shiba Inu to some extent. Now, once the Whales start to back SHIB once again, Shiba Inu price may see a major boost.
Are NFTs the future for Shiba Inu
Can Shiba Inu reach 1 cent? Why it is possible
A market cap of $5.5 Trillion may sound crazy today but not if it was 30 years from now or later. With burns of 2-3% a year, this can even be faster and the market cap requirements could be much lower. The real question is what are the 3-4 factors that could drive Shiba Inu towards 1 Cent
Organized and High-Quality Leadership: While this may not be such a requirement for Bitcoin, Shiba Inu needs vision, oversight, and execution. Vitalik Buterin for example.
Execution of Plans: The core of what makes Ethereum such a successful cryptocurrency is a solid blockchain framework and widespread use which in turn drives demand for Eth coins. Shiba Inu has numerous plans whether it is their own Layer-2 Block Chain, A Metaverse, or the latest plan to launch a Stable Coin. Implementing these will need massive execution capability because each in itself is a company on its own.
Sustaining current momentum: Shib is already well organized as a community, leads in payment adoption, and continues to Burn at a steady pace.
Will Shiba Inu Reach 1 Cent: Risks
Regulation: After the recent crashes of FTX and Luna, there is an increased risk of regulation which could jeopardize the cryptocurrency industry as a whole. Further, central banks are beginning to pilot CBDCs (Central Bank Digital Currency), and it is unpredictable how CBDCs will impact Cryptocurrencies.
Development Efforts: Currently the SHIB team is implementing many of the plans outlined earlier. However, none of them have actually been fully implemented.
The Overall environment is generally against cryptocurrencies and 'non-utility coins like Shiba Inu. If the price crashes further, interest levels in the Token could fall and could mean the end of the Shiba Inu Token
Here is why Dogecoin is better than Shiba Inu
Shiba Inu Etherscan Statistics
Will Shiba Inu Coin Reach 50 Cents: Statistical Analysis
To reach 50 Cents, Shiba Inu will have to rise 62500 times higher. While there are a few cases of Tokens rising 62500 times, in reality, such rises are rare
Let us take a specific scenario
If Shiba Inu gains 30% a year (assuming a burn of 50% of its supply) it will take 43 years for Shiba Inu to reach 50 cents.
Now, there is no category that would gain at 30% per annum for 43 years in a row. In fact, it is impossible to predict the price of an asset 40 years from now. Therefore, we believe Shiba Inu 50 Cents is an impractical expectation. That said there are some promising elements of Shib
Payment Token
Very Good Community
Numerous Development Plans some of which have already been rolled out

DEX
Gaming
Metaverse
Layer-2 Blockchain
This is why Shiba Inu is in our list of Best Cryptocurrencies to Invest in 2023
Shib Inu 1 cent? FAQs
Can Shiba Inu hit 1 Cent?

Yes, Shiba Inu can hit 1 cent. The current forecast suggests it will take 31 years to reach this level. However, the forecast accuracy is likely to be low to moderate. Can Shiba can hit 1 cent is dependent on numerous factors that are works in progress. If the Shiba Inu team implements those effectively, the prediction accuracy will improve.
Can Shiba Inu reach 1 cent by 2025?

Shiba Inu will not reach 1 cent by 2025 because to reach 1 cent Shib coin will have to reach a market cap of 1 Trillion (2 Times Apple) in 3 years or burn 90% of all SHIB coins in the next 3 years. Both are highly impractical at the moment.
Can Shiba Inu reach 0.0001 cents?

Yes, we believe Shiba Inu can reach 0.0001 dollars in the next 11 years. The burn rate should sustain at the current rate and many of Shiba Inu's initiatives will have to be completed as planned. The community must also hold together during this period. If the question was actually about 0.0001 cents, the current price of Shiba Inu is already above this level.
Can Shib hit a penny by 2030?

Given our aggressive simulation, the optimistic estimate for Shiba Inu 1 cent is 2050. Therefore, there is no chance of Shib hitting a penny by 2030. Shib could hit a penny probably a decade after if many variables go in its favor. The most critical of them is the widespread acceptance of Shib because of the wide variety of use cases. Further, the regulatory environment should be favorable and not restrictive.
Will Shiba Inu Reach 25 Cents?

For Shiba Inu to reach 25 cents, it will have to rise 31,250 times from its current price.

If Shiba Inu gains 30% a year (assuming a burn of 50% of its supply) it will take 40 years for Shiba Inu to reach 25 cents.
Can Shiba Inu hit 10 cents?

As per our current simulation, Shiba Inu is likely to reach 10 cents in 35 years. The forecast accuracy remains moderate to low as there are numerous dependent factors like Government regulation, Shiba Inu leadership, and community cohesion.
What year will Shiba Inu hit 1 cent?

Our simulation suggests that Shiba Inu will hit 1 cent by 2053. As analyzed earlier, this will depend on the Shiba Inu Burn, the Implementation of Shiba Inu Plans, and the sustenance of the community.
Will Shiba hit 1 cent?

There is a significant possibility that Shiba Inu will hit 1 cent. The enabling factors are community engagement, execution plans for the future, and the likely growth of cryptocurrencies in the future. The biggest risks are government regulation, poor execution of Shiba Inu plans, and general deterioration in the macroeconomy.
Will Shiba Inu reach 1 cent soon?

No, there is no scenario in which Shiba Inu will reach 1 cent soon. However, once Shiba Inu implements many of the proposed plans, it is likely that Shiba Inu will reach 1 cent very soon.
Check out our other Shiba Inu Articles
Will Shiba Inu reach 1 Dollar?
Is Shiba Inu Dead
Can Shiba Inu reach 1 Cent: How to Buy Shiba Inu?
Here are the steps to buying Shiba Inu crypto:
Finding the Exchange where the Shiba Inu coin is listed
Create an account with the Exchange
Verify your identity
Fund the Wallet
Make the Purchase
Shiba Inu Coin is one of the most popular cryptocurrencies therefore most of the exchanges have listed Shiba Inu for trade. Here are a few popular exchanges where you can purchase Shib:
Robinhood, Binance, Crypto.com, Atomic Wallet, Voyager, SevenB, and KuCoin.
Vineet Agarwal
Note: Crowdwisdom360 collates Predictions and data from all over the net and has no in-house view on the likely trends in the Stocks or Crypto Coins. Please consult a registered investment advisor to guide you on your financial decisions.