Middle Class Consumer Confidence Falls off the cliff, who is Listening?
The latest Refinitiv-Ipsos monthly India Primary Consumer Sentiment Index of Middle Class Indians shows that Consumer Confidence fell by 8.9% points in just one Month in May.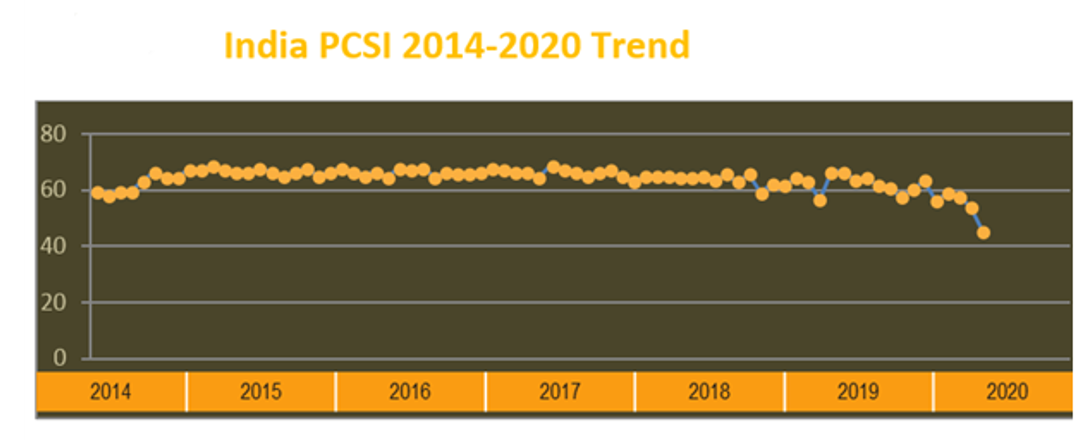 If one notices in the chart above, the consumer confidence has always remained between 60 and 70 for the last 6 years. It is now closer to 40, a remarkable fall. This is how the Index has fallen over the last 5 months
January: (-) 7.3 percentage points
February: +2.5 percentage points
March: (-)1 percentage points
April: (-)3.8 percentage points
May: (-) 8.9 percentage points
This is a total drop of 18.5 percentage points from December. A double whammy due to the slowing economy and now COVID-19
In the meanwhile, the Governments AtmaNirbhar programme received the support for just 35% of Middle Class Indians. This is from a survey carried out by CrowdWisdom360 early this week.
Other surveys have confirmed that most Indians will not return to consumption even if Lockdown ends. This is either due to health concerns or financial reasons.
The Indian Middle Class drives bulk of India's consumption and a sustained loss in confidence in this group will sink the Indian economy for a very long time. Is anyone Listening?