Uttar Pradesh Election 2019: No cakewalk for SP-BSP
By Mohal Joshi
Uttar Pradesh Election 2019 is likely to be the pivotal election this year. Once bitter rivals Samajwadi Party (SP) & Bahujan Samajwadi Party (BSP) sealed an alliance to contest the 2019 Lok Sabha elections together to defeat the ruling BJP. During the 2014 elections BJP (plus minor alliance partner Apna Dal) swept this state winning 73/80 seats. (BJP: 71 Apna Dal: 2).
2014 Election Analysis
The 43+% vote share of the BJP-Apna Dal alliance made the 20-22% vote share of two regional parties Samajwadi Party (SP) & Bahujan Samaj Party (BSP) who fought separately completely redundant. Congress (INC) fighting separately (with RLD as junior partner) made it a multipolar contest further benefiting the front runner BJP.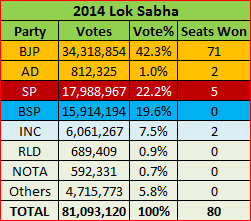 2017 Election Analysis
Fast forward to the 2017 Assembly elections, BJP picked up another smaller ally SBSP (Suheldev Bhartiya Samaj Party) while SP & INC formed their own pre poll alliance. Even with this tripolar fight, between BJP, SP+INC & BSP, BJP & its allies won 325/400 seats in a stunning landslide victory.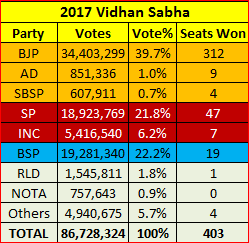 2018 Election Alliance
Having been bested by the BJP twice in a span of three years both at national & state level, SP & BSP putting aside their decades old rivalry decided to join hands for future elections. Early last year in March when SP put up candidates for both Gorakhpur & Phulpur seats BSP (which doesn't usually fight bypolls) threw their support behind the SP candidates. SP pulled off a major upset by winning both the seats which were won just 3 years ago by BJP with big margins. Fast forward to May 2018 when SP & BSP joined forces with Ajit Singh led RLD to form a sort of "Alliance" they won 3 more by elections in Kairana, Gorakhpur & Phulpur.
Buoyed by their success in the by elections in 2018, a couple of weeks ago the SP & BSP supremos: Akhilesh Yadav & Mayawati sealed their alliance with a formal press meet. Interestingly Congress (INC) was not part of this alliance. They however conceded the Congress family bastions of Amethi & Rae Bareli where the SP+BSP Alliance promised to not put up any candidates in deference to sitting INC MP's Sonia Gandhi & Rahul Gandhi. Out of the 80 LS seats in UP, SP & BSP planned to contest 37 seats each while leaving 2 for its other allies. Though there has been no formal announcement it is suspected that Ajit Singh's RLD will be getting 2 seats to contest as part of this "Alliance"
Now going to back to the 2014 & 2017 elections putting SP + BSP + RLD votes together on one side as part of the Alliance* & on the other side putting the BJP + Apna Dal + SBSP votes together as part of NDA* (Note: *SBSP was partner with BJP only in 2017 & fought 2014 elections on its own) we see that the vote shares of both blocks are fairly equal. INC chances looking on the outside of the two major blocks with just a 6-8% vote share doesn't look bright.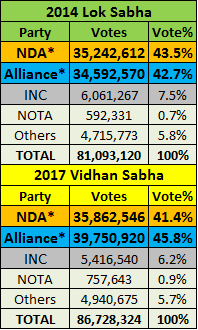 Uttar Pradesh Election 2019, Simple Simulation
Taking the data from the previous Lok Sabha elections in 2014 & adding up the votes for both the NDA (BJP+AD+SBSP) & Alliance (SP+BSP+RLD) partners for each of the 80 UP Lok Sabha seats individually we can see theoretically that how many seats each coalition would have won if they had all partnered together at that time.
NDA: 38
Alliance: 40
INC: 2

Now this is of course assuming 100% vote transference between all partners in both the blocks. Note that all members of the newly formed Alliance: SP & BSP & RLD fought separately in 2014 elections. Interestingly for the 3 bypolls in May 2018 the Alliance had fielded a Nishad (Gorakhpur), Kurmi (Phulpur) & Muslim (Kairana) which have resulted in as per some estimated 90% voter transference. The million dollar question is that when in 2019 there are Yadav & Dalit candidates standing for election will the two communities who don't get along vote for the other communities candidate? What would happen in case there is a leakage of 5% or 10 or even 15% (relative) votes being transferred between the various voter bases in 2019? Considering for a moment that there is a transfer of this leakage (i.e. not perfect vote transference) from Alliance to NDA what would the scenario be then?
Uttar Pradesh Election 2019, Complex Simulation
Conversely we have seen that after the high of the 2014 Lok Sabha election as anti-incumbency sets in, BJP & hence NDA vote share % would come down. I have written how both during the UP by-elections & recent assembly polls while the BJP vote share % didn't completely collapse it did anywhere from a 5 to 15% relative reduction from the highs seen in the 2013-2014 Modi wave election cycle. So it wouldn't be practical to expect the NDA votes to remain the same in 2019 as in 2014. What would happen in case there is a defection of 5% or 10 or 15% (relative) votes being transferred from NDA to the Alliance? Here is the simulation for Uttar Pradesh Election 2019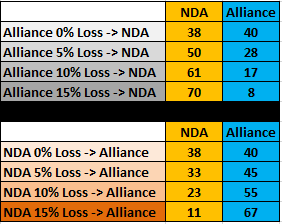 As seen above as the leakage increases in the vote transference of the Alliance the seats for NDA go up (from 38 with 0% leakage) with 50 seats with 5% leakage from Alliance -> NDA all the way up to 70 with 15% leakage from Alliance -> NDA which is very close to the 73 seats that NDA won in 2014.
As the defections from NDA -> Alliance increases the seats for NDA go down (from 38 with 0% leakage) with 33 seats with 5% transfer from NDA -> Alliance all the way to just 11 seats with 15% transfer from NDA -> Alliance which would be a complete reversal of the 2014 results.
In reality it won't an either or event where just one of the above events occurs in isolation: leakage from Alliance -> NDA OR defections from NDA -> Alliance. We will most likely see some sort of combination of both occurring at the same time. Now that we have seen the impact from both individually let's combine them as one to see all the possible outcomes for both NDA & the Alliance. Here is the simulation for Uttar Pradesh Election 2019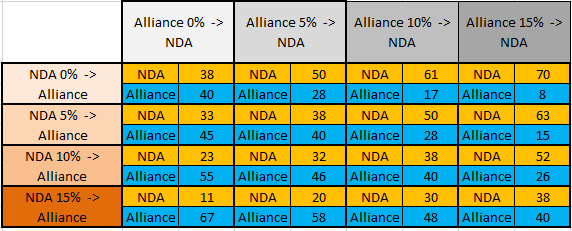 What this table shows that if the leakage from Alliance -> NDA & defections from NDA -> Alliance are exactly equal (be it 5% each both ways or 10% each or even 15% each) both will cancel out each other out. I.e. NDA & Alliance end up winning the same no. of seats then as they would have without any leakages/defections: NDA 38 Alliance 40.
As the % of defections from BJP become greater than the leakages from Alliance (in the reverse direction) the NDA tally starts dropping from 38 to the low 30's, then to the 20's & finally into the teens.
Equally as the % of leakages from Alliance to NDA becomes greater than the defections from NDA to Alliance (in reverse direction) the NDA tally rises from 38 to the 50's all the way up to 70.
The outcome of the Uttar Pradesh Election 2019 will be decided by who will lose a smaller % of voters to the other side & gains back a larger % of voters. Since both camps start off with roughly even no. of seats the group which can have a net positive delta in terms of gains vs defections will emerge as the victor with more seats in 2019.
X-Factor: Congress Party
The X-factor in this could all be the remaining parties including INC (Congress) which accounts for the ~15% overall vote. Any losses from either NDA or the Alliance to these parties would change the above calculations. A loss to other vs the other faction would mean that the benefit is not fully accrued with the other major bloc. Let's say for e.g. BJP loses 15% of the voters but only 10% go to the Alliance & remaining 5% go to Others including INC it softens the blow for NDA or if the leakages in the Alliance go to Others vs going to the NDA it would help Alliance preserve their nos. instead of boosting NDA's tally.
There is also the matter of Shivpal Yadav (estranged uncle of Akhilesh Yadav) whose party could cut into the SP vote banks in few seats denting the Alliance prospects. Where the other smaller parties like the NISHAD party (who contested with SP& BSP in the by election last year) AIMIM & Peace Party contest & ally with will be interesting to see over the next few months. Many of these even with <=1% vote share could act as vote cutters & spoilers in a few seats where they have some presence.
SP & BSP realizing the weak INC organization on the ground excluded INC as it didn't bring much to the table in terms of vote share%. Many SP leaders post the disastrous results of the tie up with INC during the 2017 Assembly elections grumbled that they would have done much better if they had fought alone. There is also the perception battle for the Alliance that if they inducted INC into the alliance that it would help Modi turn the narrative into a "Modi vs All" fight garnering sympathy vote. As per reports SP & BSP wanted INC to stay outside alliance, fight separately & act as vote-cutter eating into the BJP Upper Caste vote bank especially among Brahmins. This would reduce BJP votes helping Alliance cut NDA margins statewide.
The Priyanka Factor
The entry of Priyanka Gandhi Vadra as in charge of Eastern UP has queered the pitch for the Alliance. The Alliance expected INC to "play dead" in the 78 seats with possibly weak candidates who had little chance of winning. This is where the Alliance was contesting & where they wanted more of a direct fight vs the NDA. This appointment is bound to be shot in the arm of the INC UP cadre who haven't had any good news in over a decade. This burst of enthusiasm can't most likely translate into winning a large no. of seats as INC influence is limited to mostly a half a dozen seats in UP.
A rise in their fortunes would not make it a truly tripolar fight but likely splinter the anti NDA vote more which can't be good news for the Alliance. The Alliance has to hope for a repeat of Chattisgarh election where a 3rdfront: Ajit Jogi took away 8% from BJP towards his party crushing the BJP & giving the 2nd pole INC a landslide win. Alliance has to hope that INC with this renewed vigor takes away a huge chunk from NDA & not itself to deliver a fatal blow to NDA's hopes in UP. There is however the possibility that entry of Priyanka in UP would mostly resonate with the dedicated Congress cadre & not make any huge headways into swaying voters into voting for INC especially given the two major blocks that are competing.
The BJP strategy
On the NDA side there have been rumors that a large no. of MP's will be dropped. BJP is looking to rope in powerful MLA's who have being performing well in CM Yogi's cabinet and/or have outsized presence in their respective areas to contest the LS elections. BJP is thus planning to bring out all its "big guns" in UP to ensure that they secure the maximum possible no. of seats in the state. The issue of seat sharing with Apna Dal & SBSP is also not settled with both demanding significant no. of seats. The arithmetic superiority of the Alliance would mean that BJP might also want to find more alliance partners to overcome the arithmetic against a potential united opposition as in many cases growing the BJP base further organically is not feasible. BJP might have to show some magnanimity on its part to give up more seats.
The Uttar Pradesh election 2019 in UP is going to be a fascinating contest on the cards where two equally strong blocks go head to head in a heavyweight tussle. Whichever block manages to keep its defections to a minimum while getting defectors from the other one in the end will prove to be the winner.
Read how regional parties could prevent Mr. Modi from returning to power
This article was first published on MyIndMakers here