Rashtriya Swayamsevak Sangh: Kerala Top State?
Rashtriya Swayamsevak Sangh: State level perspective. This article provides an intriguing perspective of how Indians perceive and engage with RSS.
The Southern states engage with RSS differently from the Northern states. For example, when it comes to the RSS song, 4 out of the top 5 states are from the South, Assam is the 5th one. When it comes to basic information like RSS full form, just one of the Southern States figures in the top 5. When it comes to the RSS BJP connection, States from all over the country make the list.
The most intriguing rank is that of Maharashtra, it is not in the top 5 in any of the lists. Maharashtra ironically is one of the few States with the longest Congress rule. But Gujarat which has been under BJP rule for long also does not appear in any of the top lists either. It has also one of the fewest number of Shakhas amongst the bigger States.
The TOP 10 States that Search for Rashtriya Swayamsevak Sangh the most
Kerala
Uttarakhand
Delhi
Jharkhand
Karnataka
Chhattisgarh
Rajasthan
Telangana
Maharashtra
Uttar Pradesh
Why is Kerala number 1? Firstly, according to this new item, RSS has the highest number of Shakhas in Kerala (5000) . Maharashtra with 3 times the population has just 4000 shakhas, lower than Kerala. Though UP has 8000 shakhas, it has 6-7 times the population.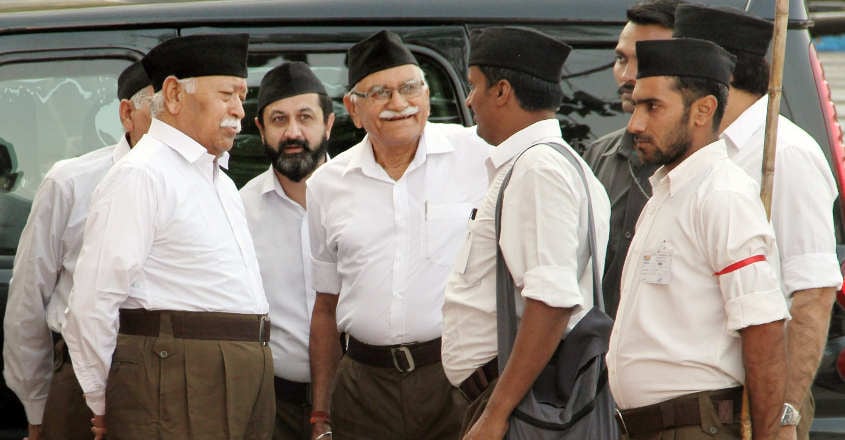 Let us look at what people are searching for RSS in Kerala? Apart from generic RSS, they are searching for
RSS Song
RSS Ganageetham
RSS Flag
The engagement with RSS seems to be a little more emotional than say in other States.
How are these searches different from Uttarakhand which is placed second? (Excluding generic RSS)
RSS Full form
Nationally, what are the top search words other than Rashtriya Swayamsevak Sangh?
RSS full form
Sangh
RSS BJP
When it comes to the RSS Song, the top 5 States are
Kerala
Telangana
Assam
Karnataka
Andhra Pradesh
When it comes to RSS full form, the top 5 States are
Assam
Jharkhand
Uttarakhand
Telangana
Bengal
When it comes to RSS BJP, the top 5 states are
Kerala
Delhi
Karnataka
Bengal
Haryana
The Bottom 5 States that Search for Rashtriya Swayamsevak Sangh the least? (Lowest First)
Punjab
Andhra Pradesh
Tamil Nadu
Odisha
Bihar
Some states repeatedly appear in many of the lists – Kerala, Karnataka, Assam and Uttarakhand. The mighty BJP states of Madhya Pradesh and Rajasthan are but a blip in these lists. Rajasthan has about 4000 shakhas for a population that is almost twice of Kerala and Madhya Pradesh has about 1500 to 2000 shakhas. In fact a senior RSS leader once said that the RSS is much stronger in Kerala than Madhya Pradesh
RSS often gets mixed up with perceptions of BJP and its strength extrapolated accordingly. However, there may not be a true correlation between the two as demonstrated by Google Search and Shakha data. The nature of engagement is also quite different across the country making the analysis of the topic that much more intriguing.
For latest analysis follow us on Dailyhunt- India's No 1 Local Language News App
Now you can read all our articles directly through Google News. Click here and don't forget to Follow us.
Read all our articles on Political Updates here
PS: Only States with > 10m population were considered