South China Sea: America calls China a 'bully' and its Claims 'Illegal'
South China Sea Claims of China rejected by America: The United States has rejected brazen claims by China in the South China Sea. Just like its border dispute with India, China has been very assertive against its neighbours in the South China Sea. Today US Secretary of State Pompeo released a detailed statement, the summary is as follows
Beijing's claims to offshore resources across most of the South China Sea are completely unlawful, as is its campaign of bullying to control them. Beijing uses intimidation to undermine the sovereign rights of Southeast Asian coastal states in the South China Sea, bully them out of offshore resources, assert unilateral dominion, and replace international law with "might makes right." Beijing's approach has been clear for years. In 2010, then-PRC Foreign Minister Yang Jiechi told his ASEAN counterparts that "China is a big country and other countries are small countries and that is just a fact." The PRC's predatory world view has no place in the 21st century.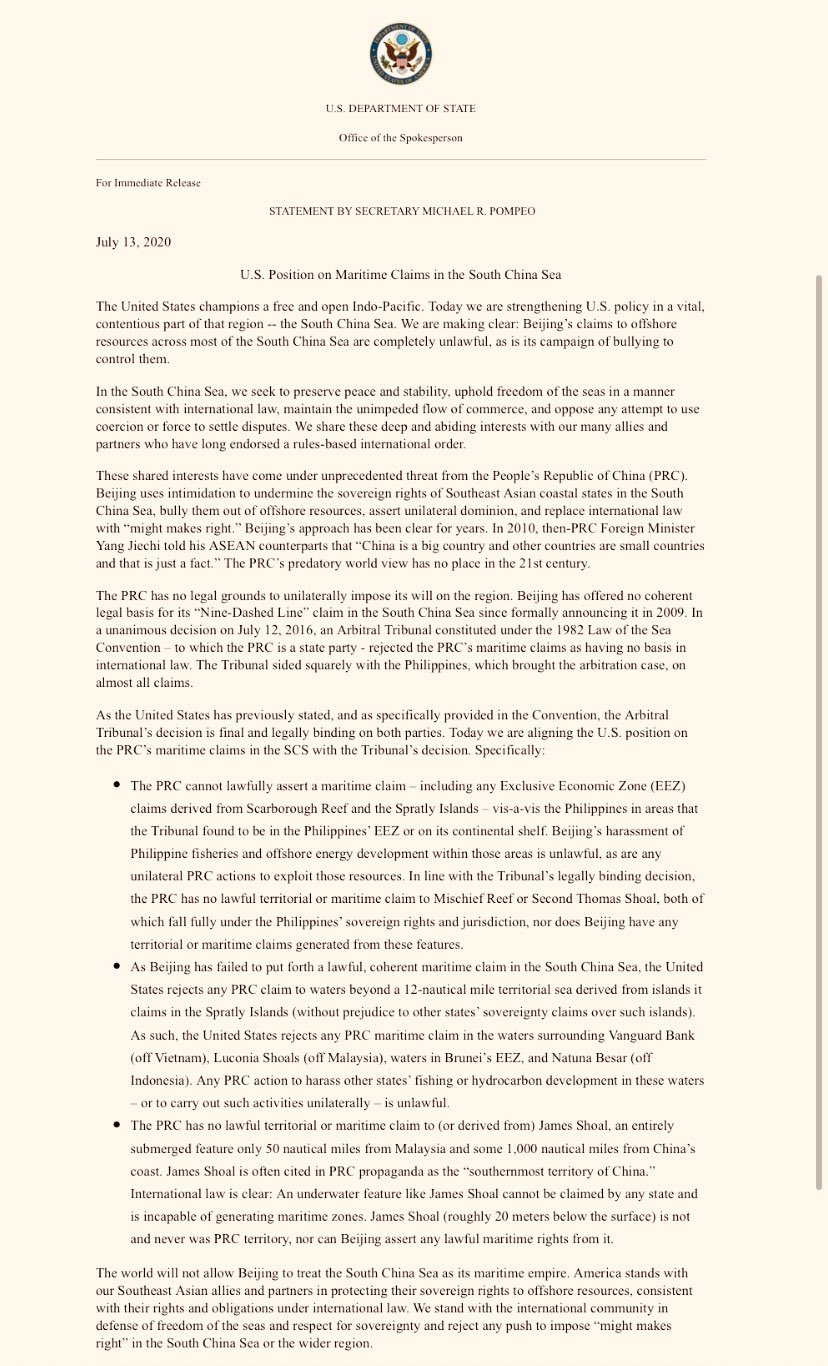 The United States has been quite aggressive against China in recent months. Four days ago, Mike Pompeo said this
The United States on Wednesday said that China took "incredibly aggressive actions" in its recent clash with India in eastern Ladakh and New Delhi did its best to respond. US secretary of state Mike Pompeo today said, "I have spoken with foreign minister S Jaishankar a number of times about this. The Chinese took incredibly aggressive actions and Indians have done their best to respond to that."
The Chinese behaviour whether against India or smaller neighbours have been entirely destructive. A summary of China's clashes with its neighbours and most of the world
Alienated most countries through fake information on Coronavirus
Soldiers killed vs India, first time soldiers dead at border since 1979
Chinese Apps banned in India. Chinese power and telecom equipments banned from India
Tighten the screws on Hong Kong and make it extremely difficult for Democracy in Hong Kong
Began driving away foreign investors from China, Japanese ones to start with
Spat with America, Canada on Arrests and Hong Kong
Spat with United Kingdom on Hong Kong
Trade Wars against Australia and America
Spat with Russia on Border
Spats with numerous neighbours in South China sea
Many of these issues started with Xi Jinping Grabbing unlimited power 2 years ago. Dark days ahead for China
For latest analysis follow us on Dailyhunt- India's No 1 Local Language News App
Now you can read all our articles directly through Google News. Click here and don't forget to Follow us.