Bay vs Lyn Dream 11, Bayern Munich vs Lyon Dream 11 Team
Bay vs Lyn Dream 11, Bayern Munich vs Lyon Dream 11 Team
The second semis line-up is set for the UEFA Champions league with the German Club Bayern Munich taking on the underdogs from France, Lyon FC. The winner of this match will play either of RB Leipzig of PSG. There is small possibility of two french teams making it to the semi-final.
Bayern Munich have entered this stage by handing the five-time champs Barcelona with one of the worst defeats in UCL history. They were quick and too heavy for the Spanish team who failed to create any chances. Lyon on the other hand are coming with lot of confidence after defeating Manchester City against heavy odds.
In the MCI vs LYN game yesterday, Lyon played a tactical game by not going on an all out attack from the first minute, instead they adopted a mid-level attack that helped the strikers to push only when required. Unlike the Barcelona Defence that seemed to have a particular poor day, the Lyon defence will be tighter and with a lot of confidence. The tournament favorites Bayern will have to neutralize this tactical cum defensive threat if they have to emerge victorious.
Before we figure the dream11 team, let us look at which players are making it to how many teams across all portals.
Player votes, Bay vs Lyn Dream 11, Fantasy Prediction
Bayern Munich
1 Robert Lewandowski – 4
2 Alphonso Davies -3
3 Joshua Kimmich – 3
4 Serge Gnabry – 3
5 Manuel Neuer – 2
6 Jerome Boateng – 2
7 Thiago Alcantara – 2
8 Philippe Coutinho – 2
9 Leon Goretzka – 2
Lyon FC
1 Moussa Dembele – 3
2 Anthony Lopes – 3
3 Fernando Marcal – 2
4 Bruno Guimarães – 2
5 Houssem Aouar – 2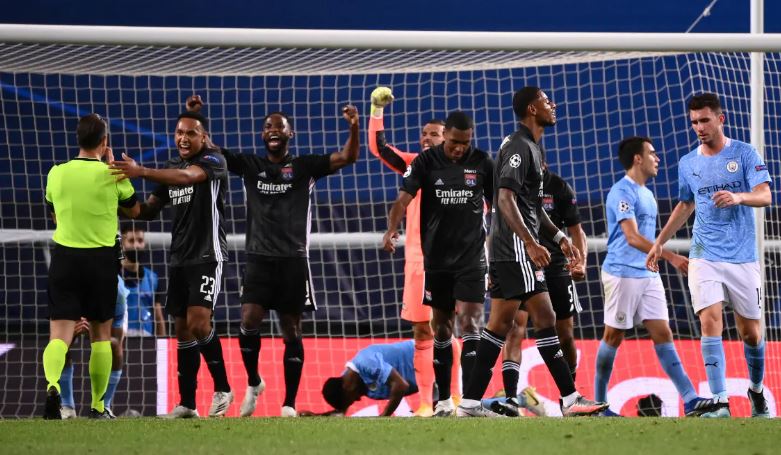 Betting Odds and Prediction Markets: Infogol has currently listed Bayern Munich at an 82% chance of winning the Semi Final against Lyon FC
Bayern Munich vs Lyon FC Dream11 : Preferred Team Prediction Online
Dream 11 Defenders:
Alphonso Davies, Jerome Boateng, Joshua Kimmich and Fernando Marcal
After a glorious drubbing in the quarters the Bayern defense has proven to be the best in the league so far. They controlled the ball from the word go and left very little for Barca. This meant that Alphonso Davies would be the first pick for his sheer impact in the eleven while Jerome Boateng and Kimmich will join him on the backline. From Lyon, Fernando Marcal will be the lone selection who has been impeccable for the side.
Dream 11 Goal Keeper:
Anthony Lopes
Anthony Lopes will be the goal-keeper for this eleven given that he has been successful in resisting attacks against giants like Juventus and City. He will play a major role if the club was to make it to the final.
Dream 11 Mid-fielders:
Serge Gnabry, Leon Goretzka, Bruno Guimaraes and Houssem Aouar
Serge Gnabry has been one of the best mid-fielders for the team in this season. Not only has he been terrific in bossing the play, he has also netted for the team on several occasions. His teammate Leon Goretzka will secure the second spot with his ball-handling skills. On the Lyon side, Bruno and Houssem Aouar have played a key role for Lyon's success in recent knockout clashes.
Dream 11 Forward:
Robert Lewandowski and Moussa Dembele
Robert Lewandowski will definitely make the eleven as one of the best strikers in the world currently. He has also scored his 50th goal in UCL against Barcelona and is in hot form. He will be accompanied by Dembele from Lyon who didn't start for Lyon against City but later went on to win it for the team with two goals.
Bay vs Lyn Dream 11 Team:
Anthony Lopes (Goal Keeper), Alphonso Davies, Jerome Boateng, Joshua Kimmich, Fernando Marcal, Serge Gnabry (Vice Captain), Leon Goretzka, Bruno Guimarães, Houssem Aouar, Robert Lewandowski (Captain) and Moussa Dembele.
(Predictions based on reports by Sports Rush, DNA, News18 and India.com)
Track our other dream11/ fantasy game predictions here
Follow us on Dailyhunt- India's No 1 Local Language News App