Djokovic vs Medvedev Prediction And Odds: Djokovic set to Complete Calendar-year Slam in a close Final
20-time Grand Slam winner Novak Djokovic will play his 4th final of the calendar year against Daniil Medvedev. The final is scheduled to be played on Sunday, September 12th. Djokovic is just a game away from bagging all the major accolades this year. Djoko reached this year's US Open final after getting the better of Alexander Zverev in the semi-finals (4-6, 6-2, 6-4, 4-6, 6-2). The Russian, on the other side, won three straight sets (4-6, 5-7, 2-6) against Felix Aliassime to book a spot against Djoko in the finals in New York.
Originally tweeted by The Big 3 (@Big3Tennis) on September 12, 2021.

Number of times reaching all four grand slam finals in one season:

Federer: 3

Djokovic: 2

Nadal: 0
Djokovic vs Medvedev Australian Open 2021
Originally tweeted by Ankit Chaubey (@AnkitCh15091994) on September 12, 2021.

Players who have won all four major Slams in the same calendar year and if Djokovic wins US Open he will join these names
1. Don Budge(1938)
2. Maureen Connolly(1953)
3. Rod Laver(1962 & 1969)
4. Margaret Court(1970)
5. Steffi Graff(1988)
#USOpen2021
Djokovic vs Medvedev Prediction And Odds: Preview
Novak Djokovic wants to complete the circle of Tennis and the coming Sunday will slide him the opportunity to do so. The City of New York awaits the 34-year-old to rewrite history with the completion of the Grand Slam. After predominating the Australian Open, Roland Garros, and Wimbledon this year, the Serb now eyes to win all the four major slams in 2021. If Djoko produces yet another masterclass this year at the US Open, then he will become only the third Tennis player in the history of the sport, after America's Don Budge and Australia's Rod Laver, to win all the four Grand Slams in a single calendar year.
Australian great Rod Laver achieved the following feat twice in his immense career. However, no player has managed to win all the four Grand Slams in a year since Laver did it in 1969. A triumph in this year's US Open will also put Djoko, who is currently tied at 20 Grand Slams each with Rodger Federer and Rafael Nadal, a step ahead of his long-time rivals in terms of the trophy cabinet. Djokovic might be feeling it up to his nerves as he now stands a win shy from being considered as the greatest this generation of Tennis fans has ever seen.
The stage is set for the Serb, so is his opponent, in the upcoming final, Daniil Medvedev. Djoko has a mammoth of a challenge in the name of 25-year-old Russian Medvedev on his pursuit towards the US Open silverware. Medvedev entered the tournament as second-seeded and reached his second US Open final in 2 years, having made his previous appearance in 2019. Medvedev will be seeking revenge against the Serb after losing to Djokovic in the final of the Australian Open earlier this year in January. Medvedev has already won four tournament honors this season and is currently ranked No. 2 in the world.
Originally tweeted by Suraj Jajoo (@JajooSuraj) on September 11, 2021.

Novak Djokovic's finals in Grand slams this year:
Straight sets against Medvedev in #AustralianOpen
5 sets against Stefanos Tsitsipas in #RolandGarros
4 sets against Matteo Berrettini in #Wimbledon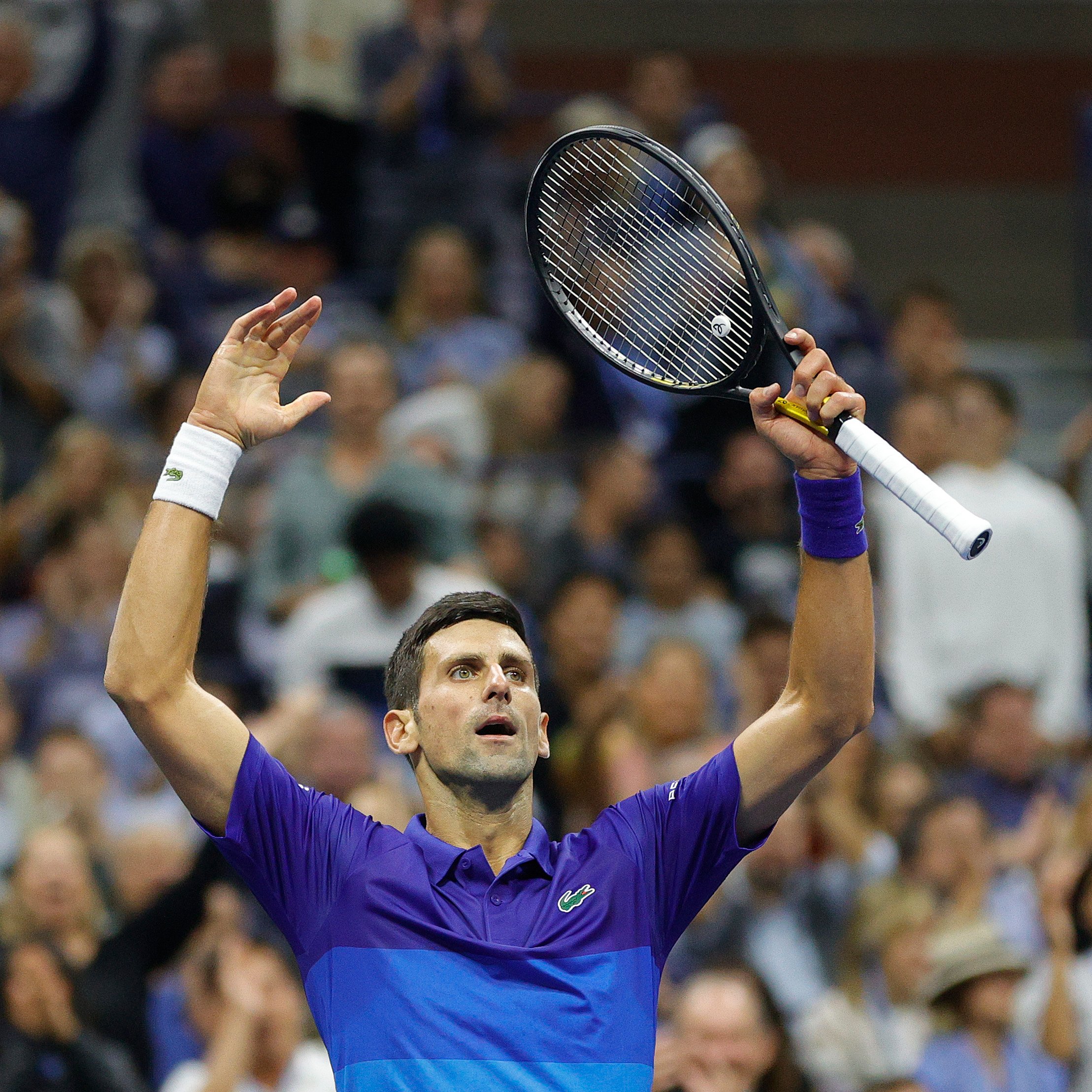 Djokovic vs Medvedev Prediction And Odds: Match Odds
| | | | |
| --- | --- | --- | --- |
| Bookmakers | Djokovic | Medvedev | Favorite |
| | 1.43 | 3.08 | Djokovic |
| | 1.41 | 3.03 | Djokovic |
| | 1.44 | 3.11 | Djokovic |
| | 1.44 | 2.97 | Djokovic |
| | 1.40 | 3.00 | Djokovic |
| | | |
| --- | --- | --- |
| | Djokovic | Medvedev |
| Aces | | 70 |
| Double Faults | 26 | |
| First Serve Points won | < 79% | |
| Break Points won | | 36 |
| Sets dropped in this tournament | 6 | |
Djokovic vs Medvedev Prediction And Odds: Match Prediction
Novak Djokovic is the clear favorite to win the upcoming US Final against Daniil Medvedev. However, the Russian can not be written off yet. Medvedev carries enough caliber to impose an upset over the great Serb.
US OPEN PREVIEW: A CALENDAR-YEAR GRAND SLAM FOR NOVAK DJOKOVIC OR DANIIL MEDVEDEV'S MAJOR BREAKTHROUGH?
Kafelnikov's Advice For Medvedev Before US Open Final vs. Djokovic
Novak Djokovic vs Daniil Medvedev – Road to the Final | US Open 2021
Originally tweeted by #AusOpen (@AustralianOpen) on September 11, 2021.

Daniil Medvedev now has the experience of two major finals.

What can he do differently against Novak Djokovic this time around? #USOpen

Djokovic is going all in 🙌
Medvedev has a master plan 💯

There's everything to play for at the final Grand Slam of the year. @toddwoodbridge and Jelena Dokic discuss Day 12. #USOpen
Novak Djokovic is next level 🔥 #USOpen
Djokovic vs Medvedev Head to Head
Djokovic 5:3 Medvedev
| | | |
| --- | --- | --- |
| | Djokovic | Medvedev |
| Hard | 3 | 1 |
| Clay | 0 | 1 |
| I.Hard | 1 | 1 |
| Grass | 1 | 0 |
Also Read | Leeds vs Liverpool Prediction And Odds: Robust Liverpool To Win
Djokovic vs Medvedev Prediction And Odds: Match Details
Fixture: Novak Djokovic vs Daniil Medvedev
Tournament: 2021 US Open
Date: 12 September 2021
Round: Final
Category: Grand Slam
Venue: Flushing Meadows, New York
Surface: Outdoor hardcourt
Prize money: $40,560,000
Live telecast: USA – Tennis Channel & ESPN/ESPN 2 | UK – Amazon Prime Video | India – Star Sports / Disney+ Hotstar VIP