Alaska Senate Race Polls: Trump In Alaska, Will It Benefit Kelly?
Alaska has been a happy hunting ground for Republicans as they have won the state twelve times in a row. Donald Trump won the state by 10 points in 2020, the smallest margin since 1992. In 2016, Donald Trump was ahead of Hilary Clinton by 14.7% in Alaska.
The Alaska General election will be held on November 8th,2022 to elect a representative of Alaska State. The Incumbent Lisa Murkowski, Republican and a three-time Senator from Alaska, will be seeking a fourth term. But before the state votes for electing their Senator, both Republican and Democratic party's candidates will be facing each other in the primary election on August 16, 2022.
The GOP field is slightly crowded as six candidates are in the fray for the August 16th Primary race. The GOP Primary race is expected to have a close finish as former President Donald Trump has endorsed Kelly Tshibaka who is running against the incumbent Lisa Murkowski. Lisa Murkowski has been endorsed by George W Bush.
Alaska Senate Race Polls: Lisa Murkowski polls
The latest polls for the upcoming Alaska Senate Race have favored the incumbent senator Lisa Murkowski over the Trump-endorsed candidate Kelly Tshibaka. However, the lead of Lisa over Kelly is not a big one. In the poll released in March 2022, she was ahead of Kelly by just 2% but in the latest poll, she leads by 10%.
Alaska Senate Election Polls: Google Trends
Google Trends has turned out to be one of the efficient tools for forecasting an election. The latest trends are highly in the favor of Lisa Murkowski. Kelly Tshibaka needs to put in some extra effort to defeat the four-time senator, Lisa Murkowski.
| | | |
| --- | --- | --- |
| Date | June 30th | |
| Lisa Murkowski | 84% | |
| Kelly Tshibaka | 16% | |
| Date | June 21st | |
| Lisa Murkowski | 66% | |
| Kelly Tshibaka | 33% | |
| Date | June 20th | |
| Lisa Murkowski | 66% | |
| Kelly Tshibaka | 33% | |
Alaska Senate Race Polls: Net Sentiment
The Recent Net Sentiments indicate a Rising Confidence of people in Lisa Murkowski. While Kelly Tshibaka's Popularity has depleted.
| | | |
| --- | --- | --- |
| Date | June 30th | |
| Lisa Murkowski | +29.2% | |
| Kelly Tshibaka | -11.4% | |
| Date | June 21st | |
| Lisa Murkowski | -16% | |
| Kelly Tshibaka | -22% | |
| Date | June 20th | |
| Lisa Murkowski | -6% | |
| Kelly Tshibaka | -24% | |
Alaska Senate Polls: Latest Campaign Tweets
Originally tweeted by Kelly Tshibaka – Text KELLY to 20903 (@KellyForAlaska) on June 29, 2022.
It will be a great honor to welcome President Trump to Alaska for what will be the greatest attended political event in our state's history. Hope you can join us!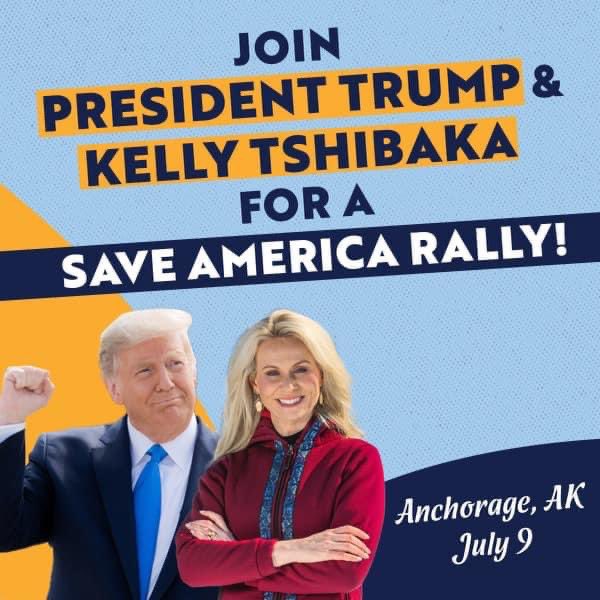 Alaska Senate Race Polls: Latest Campaign Videos
Alaska Senate Election Polls: Latest News
Alaska Senate Race Polls: Republican Candidates
Lisa Murkowski: Incumbent Senator
Kelly Tshibaka: Former commissioner of the Alaska Department of administration
Karl Speights: retired air force officer.
Sam little: Former national guard veteran
John Schiess
Kendall L. Shorkey
Alaska Senate Race Polls: Democratic Party Candidates
Patricia Chesbro: Teacher
Edgar Blachford: Professsor
Ivan Taylor
Alaska Senate Race 2022 polls: Frequently Asked Questions
How many senators represent the state?
As per the constitution, there are two senators from each state. The senator must be at least thirty years of age and must be a citizen of the US for nine years. After getting elected the senator should be a citizen of Alaska.
Is Alaska red or blue?
Mostly Alaska gives more support to Republicans in presidential elections. Republicans have managed to win every state election except in 1964.
Alaska Senate Race 2022 polls: Demographics
As per the latest 2020 census figures, the Demographic composition of Alaska State stands as:
| | | |
| --- | --- | --- |
| Race and Ethnicity | Demographic Composition | |
| White Alone | 61.6% | |
| Black Alone | 12.4% | |
| Hispanic | 18.7% | |
| Asian Alone | 6% | |
| American Indian and Native | 1.1% | |
| Other Race | 8.6% | |
The Population of Alaska has increased by 7.4% since the last election and the diversity of the state has increased by 6 percent due to the rapid growth in the black population. The black population has increased by 37.1% since 2010.
Alaska Senate Race Polls: How did the state vote in the Last Presidential Election?
Donald Trump despite failing in his re-election performed excellently in Alaska. Trump carried Alaska as he won the state by securing 189,951 votes which is 52.83% of the total votes. He defeated Biden by 10%.
Biden did win Anchorage, the state's largest city, making him the first Democrat to do so since Johnson. But Trump did fairly well in Kanai Peninsula and the Matanuska-Susitna Borough where he secured mammoth 70% votes offsetting Anchorage's loss.
Republicans have won the last fourteen -presidential elections in Alaska.
Read: Oregon Governor Race Polls 2022