Gavin Newsom Recall Update: 3 Reasons why he will win the recall election
Gavin Newsom Recall Update : The California Recall Election has been one of the most exciting elections in recent history on the national level and the reason it has received a lot of attention is because its California, which is not just the most populous state in the union but also the home of Hollywood and Silicon Valley.
Anyone who is aware of even the basics of American politics knows it to be the Largest Democrat bastion in the country!

In the 2018 gubernatorial election, Gavin Newsom won by a 24 point margin against the Republican candidate John Cox. The margin and his performance were record-breaking. Joe Biden went on to register a 30 point margin victory against Donald Trump in the 2020 election.

Then why is it that just 2 years after this historic victory is he facing a recall referendum today where he seems to be on the cusp of being dismissed?

There is a lot of anger against Gavin Newsom for many reasons. As per the Taragoz Market research poll, some of them are:-
His handling of the Covid-19 pandemic
Homelessness
Blackouts throughout the state
Closure of businesses and schools due to Covid
His spending decisions
His decision to attend a party during the lockdown and forgetting his own restrictions.
THIS is what we believe was the breaking point for many Californians and was seen as hypocrisy by many Independents and Democrats too.
All this resentment lead to crystalized frustration and anger which led the state to the Gavin Newsom Recall

Arnold Schwarzenegger who won the 2003 recall poll to be governor says that "The atmosphere is exactly the same as he ran." "The people are not happy with what is going on in the state, with education, with blackouts, with the inequality in the state".
Let us remind you that the 'Governator' is a 'Never Trump Republican' who voted for Biden to replace Trump as President.
"There's a reason why people are angry and they're not just disappointed. … I drive by homeless people every day when I go to Gold's Gym and I talk to some of them. They're angry the way they've been pushed around and they've been promised things and no delivery," Schwarzenegger told Bash.

The Democrats may have had total control over the state for the last decade, but the anger is against Gavin Newsom not against the party or President Biden.

None the less we at CrowdWisdom360 in this Gavin Newsom Recall Update now believe that Gavin Newsom is going to win.

The 3 biggest reasons why Gavin Newsom is going to win are

Gavin Newsom Recall Update: A plurality of registered voters in California are Democrats
As per the PPIC 46.5% of registered voters in the state are Democrats and only 24.1% of voters are Republicans. The share of Independents is 23.1%
In this time of political partisanship or to be more appropriate 'Negative Partisanship' where many people turn out to vote just to deny an opponent a victory, all Gavin Newsom has to do to win is increase the turnout of Democrats and liberal and left-leaning Independents and he will easily cross 50% of all registered votes to avert dismissal.

Add to that many Democratic voters and liberals genuinely don't see a reason why Newsom should be removed and that increases the feeling of sympathy towards Newsom among many of them.
Not to mention 53% of Californians approve of the way he has handled his job as per the PPIC poll

Yes, Republicans may be more enthusiastic to vote compared to Democrats as they were in the 2003 recall.
But In the 2003 recall, Democrats were 44.1% of all registered voters while Republicans were 35.3% of them. The divide in numbers between both parties is far bigger right now than it was back then.

The Republicans despite their best efforts aren't reaching out to many moderate Democrats and Independents whose support they need if they want to win in the Gavin Newsom Recall

"When only 24, 25% of California registered voters are Republicans, you need to get somebody else on your side if you're going to win any kind of statewide election in California, they(Republicans) haven't done that yet."

Joe Garofoli,Senior Political Writer
As per the latest Gavin Newsom Recall Update Democrats have come out in huge numbers in the early ballots, more than half of all voters till now as per recent figures [8th Sept] are registered Democrats.

Gavin Newsom Recall Update: Larry Elder is not seen as the correct candidate to replace Newsom
The USA has been in the middle of intense partisanship for the last few years, but even then it is not impossible for Democrats to win in 'Red States' and Republicans to win in 'Blue States'

US Senator Susan Collins(R) won the senatorial race in Maine by a margin of 10 points over her Democratic opponent,
at the same time, Joe Biden(D) won the state by a margin of 11 points over Donald Trump(R)

Susan Collins's surprise victory was because of split voting, she won because many Mainers who voted for Biden saw her as a moderate face in tune with the state's denizens and values despite being a Republican.
The same can be said for US Senators Joe Manchin and Jon Tester who won from firm Trump-supporting Red States like West Virginia and Montana in 2018.

The same can be said for Republican Governors Larry Hogan(Maryland), Charlie Baker(Massachusetts), and Phil Scott(Vermont) who won from 'Blue States' who voted heavily for Joe Biden. Vermont even elected a self-proclaimed 'Democratic Socialist' as its Senator!
Reason:- They are more or less culturally in line with their state and their people and work well with the Democratic party which is dominant in the state. That doesn't change the fact that they are fiscally conservative and still possess generic Republican stances on many other issues. They won over enough moderate Democrats and Independents and even some liberals to cross the finish line.

As per the latest public reactions in this Gavin Newsom Recall Update. We can say that the same can NOT be said about Larry Elder, Larry Elder is seen as too libertarian and conservative by too many Democrats and Independents in California and thus unelectable in the Gavin Newsom Recall.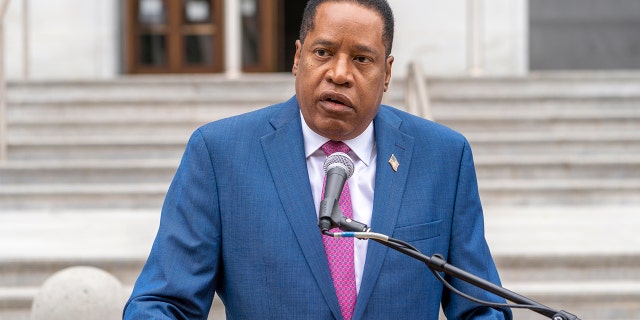 His beliefs on abortion, his espousal of a 0 $ minimum wage, gun control, his vociferous opposition to anti-virus mask mandates and vaccine mandates, and many other issues are not in sync with what most Californians want. Yes he is very popular among Republicans in the state and those who are furious with Gavin Newsom and that's it and that is far from enough.

Not to mention his past controversies with women, his ex-fiancee, and his attacks on the media remind too many people about Trump who is far from popular in California (trump won only 34% of the popular vote in 2020) and will turn off too many women and too many moderates.

Arnold Schwarzenegger won in the past because he was culturally moderate despite being seen as appeasing Democrats too much by many local California Republicans. Larry Elder's stances and attitude leave a lot to be desired if he wants to be Governor. He is nowhere close to emulating the Blue State Republican Governors that we mentioned above.

His policy positions and stances would have been no obstacle to him in any normal 'red state' or even a swing state if his opponent possessed the anti-incumbency that Gavin Newsom does but it can not work in a blue state and especially one like California.

His latest comments on US Senator Diane Feinstein and talking of replacing her with a Republican if she retires are NOT what most of the state wants to hear. With comments like these, he is playing into Newsom's hands and nationalizing the race which will not help him win.

Since he is leading the pack of candidates who could replace Newsom if he is recalled, Newsom has the perfect opportunity to portray him as too radical for California to increase the turnout of his base.

Had Kevin Faulconer, John Cox or Kevin Kiley been the frontrunner in the race to replace Newsom, the Gavin Newsom Recall election would be more competitive today than it is now.

To win a state like California, you have to follow Larry Hogan, not Donald Trump.

Gavin Newsom Recall Update : Gavin Newsom's Fundraising and Political Strategy

Gavin Newsom has a huge cash advantage compared to all the other candidates and the anti-recall movement
Anti-recall committees and Gavin Newsom's campaign combined have amassed up to more than $ 81 Million till 9th September!
On the other hand, only $43.8 million has been stockpiled up by all the other candidates and the pro-recall committees combined.

Gavin Newsom received contributions not just from Democrat Donors nationwide but even Hollywood actors,tech titans of Silicon Valley, interest groups including labor unions representing service workers, teachers and prison guards, the real estate industry, and Native American tribes that operate casinos.
"If Gavin didn't raise the money, given the amount of apathy and angst, he could have lost,I'm just going to be real."

Kerman Maddox, a Democratic strategist in California
On YouTube and Google, the financial disparity was even more stark. Mr. Newsom has spent nearly $4.1 million, according to Google disclosure records, while his leading Republican opponent, the radio talk show host Larry Elder, has spent a little more than $600,000.
It is acknowledged that the rise of Larry Elder accelerated the fears of Democrats who donated even more to stop him.

Furthermore, in the Gavin Newsom Recall Update, we at CrowdWisdom360 noticed that Gavin Newsom's campaign has implemented and worked upon a good political strategy.

Upon recognizing the intense negative partisanship plaguing the two parties throughout the country decided to weave a Democrat vs Republican narrative to win instead of a Pro-Gavin vs anti-Gavin Fight.

The first thing they did was to make sure no top democrat ended up on the ballot to replace Gavin Newsom to force Democrats to consolidate behind him and to make sure there is no confusion among voters as there was in 2003 and tried to carry out an early recall election.

For much of July and August, polls and google trends show that Gavin Newsom was losing the recall election and wouldn't cross the 50% threshold

This is because while Republicans were animated and eager to deliver a blow to Democrats, most registered Democrats and Left-leaning Independent voters and donors were very apathetic at the thought of voting, were over-confident that Newsom would win, or were unaware of a recall vote having enough on their minds at the moment
Some even wanted to punish Newsom and go against him.

Gavin Newsom also implemented a Stimulus payment of 600$ which over 600,000 Californians have already received, political experts agree that this will give him a boost of about 2-3 points. Larry Elder has already accused Governor Newsom of trying to bribe the electorate using this

Newsom pursued a strategy at mobilization, not persuasion to win aware that he only has to convince and turnout the Democratic base and he will win. He decided to Nationalise this contest in the following ways
Tagging the recall campaign as 'The Republican Recall' to delegitimize it in the eyes of non-Republicans
Getting Joe Biden and Kamala Harris who have high approval ratings in the state along with other US Senators to campaign in the state
Using the recent Supreme Court Verdict on Abortion in Texas to warn that Larry Elder would do the same in California
Reminding people that if Dianne Feinstein does step down,the Governor of California will appoint her successor.
Comparing the performance of Republican governed states with California on handling the Delta Variant of Covid-19.
He also warned of Radical Republican views being forced upon the mostly liberal state and that the frontrunner Larry Elder's views are not in sync with most of the state and that his winning the election would lead to a huge undesirable Right turn for California.

And this strategy seems to have worked, every poll puts Gavin Newsom ahead by a comfortable margin, even democrats who were apathetic or unaware of a recall happening are now fired up to vote and stop Larry Elder.

And now even Republican strategists have begun to blame Larry Elder for Newsom's brightening prospects days before voting ends.

"Before Elder, the race was all about Gavin, and our polls were looking very good,If the election had been four or more weeks ago, we would have won."

a Republican consultant in California.


As per the recent PPIC Poll, most Californians name Covid-19 as the top issue facing the state today, and most support the governor's recent policies. Newsom has framed this election as a 'Life and Death' issue regarding Covid.

Nearly two-thirds of Californians support requiring proof of Covid-19 vaccination for large outdoor gatherings or certain indoor spaces and more than three-quarters of state residents say they believe the state government under his direction is doing an excellent or good job distributing Covid-19 vaccines.

Newsom has successfully made this a bilateral conflict between him and Larry Elder aware that this will help only him.

As this article succintly puts it:
Elder has, in the view of many Republican and Democratic political activists, been a boon to Newsom, who must no longer run a race solely in defense of his own record. "If Larry Elder did not exist," Schnur said, "Newsom would likely have wanted to invent him."
California Governor Election 2022 Polls: Who Will Win the Upcoming Primary Election?