Texas 6th Congressional Election Opinion Polls 2021: Jake Ellzey likely beat Trump Candidate Wright
Election Day Update
Originally tweeted by The Election Center (@ElectionCenter_) on July 28, 2021.

Projection:
Republican Jake Ellzey is the Projected Winner in the #TX06 Special Election Runoff. He will defeat Republican Susan Wright.

GOP Hold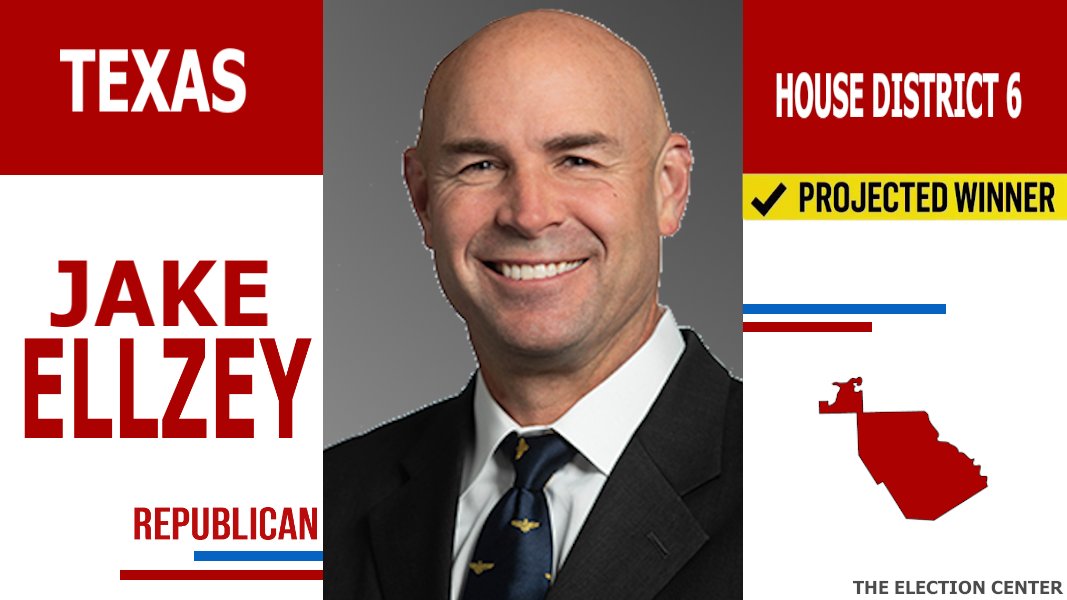 Originally tweeted by Dave Wasserman (@Redistrict) on July 28, 2021.

I've seen enough. Jake Ellzey (R) defeats Susan Wright (R) in the #TX06 special election runoff.
Originally tweeted by Decision Desk HQ (@DecisionDeskHQ) on July 28, 2021.

With election day votes now starting to come in from Tarrant and Navarro Counties in, Jake Ellzey(R) with 13,820 votes (52.80%) still leads Susan Wright(R) 12,354 (47.20%) in the TX-06 special election runoff.
Originally tweeted by The Election Center (@ElectionCenter_) on July 28, 2021.

Election Update: #TX06
Jake Ellzey (R)
Susan Wright (R)

GOP Hold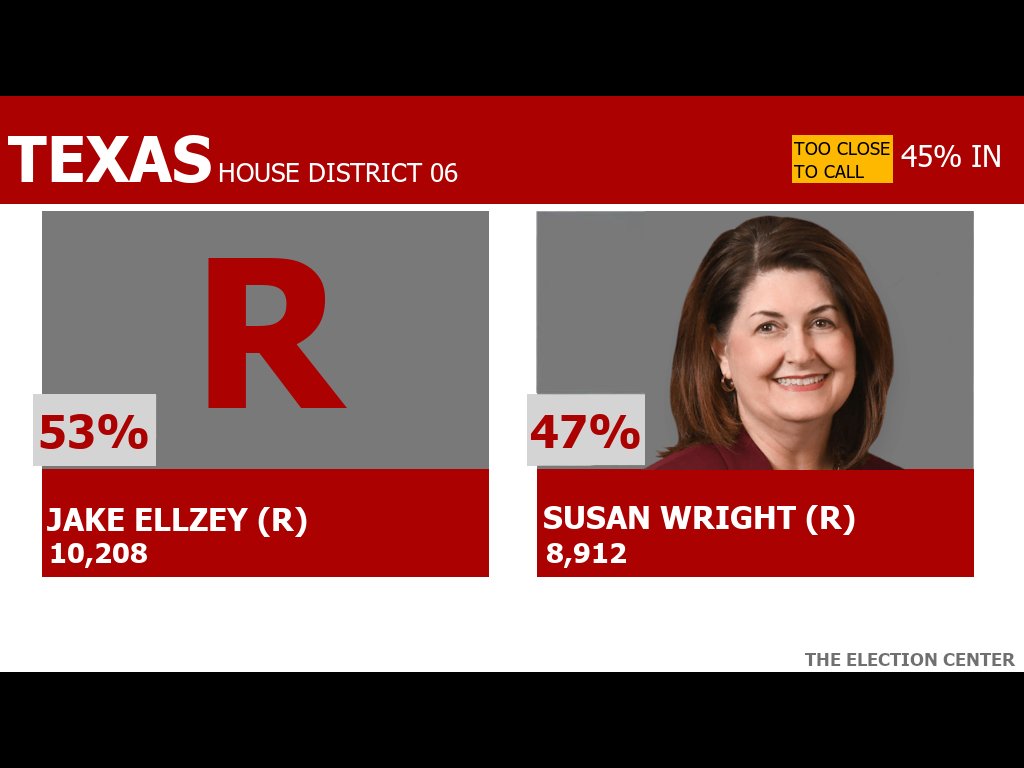 Originally tweeted by Dave Weigel (@daveweigel) on July 27, 2021.

Source in #TX06 shares mysterious texts, going to Democrats, that remind them that Wright is the Trump candidate and call Ellzey "a champion for our public education system."

It's an R-on-R race but anecdotally, I've heard of Dems casting protest votes for Ellzey.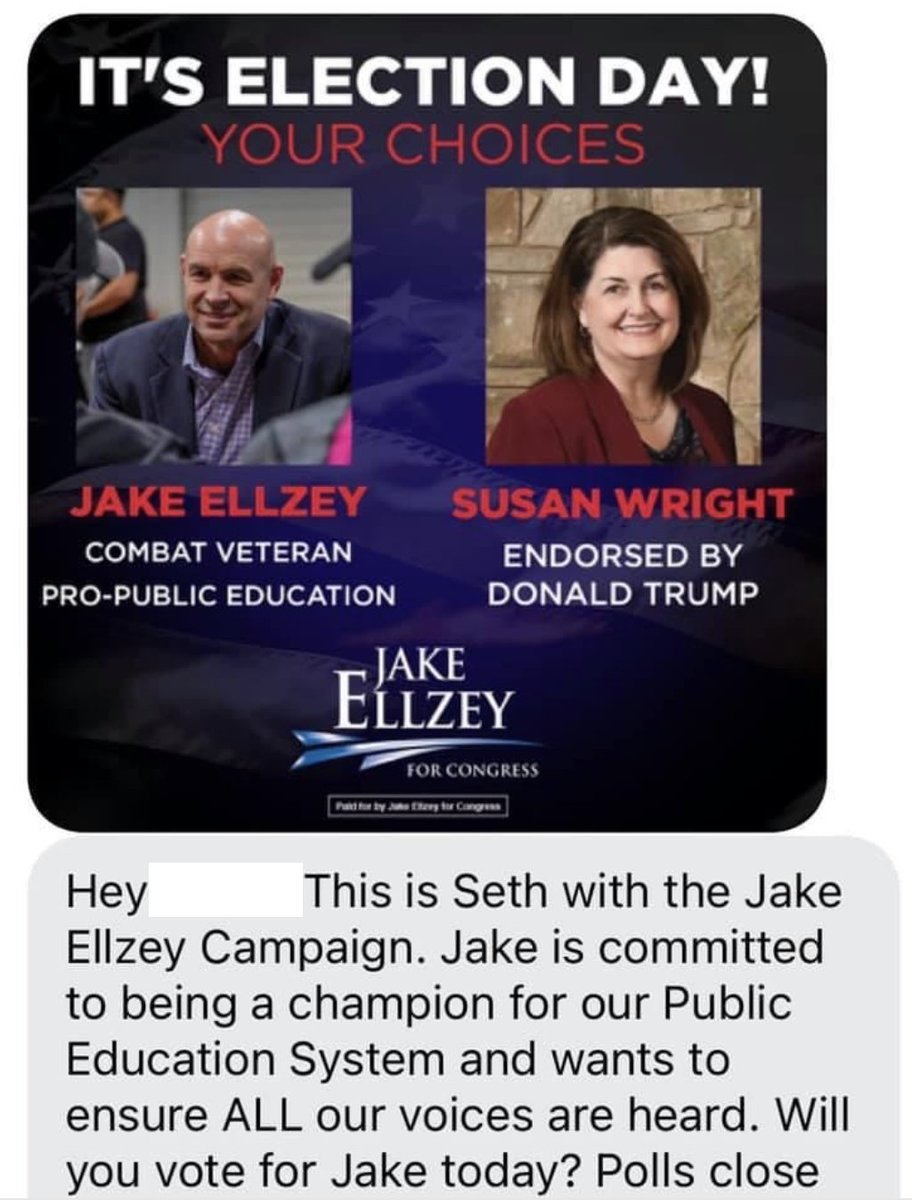 Not so mysterious! I've become very skeptical about last-minute texts, but this is from Ellzey's campaign.
Pre-Election Analysis
After the death of incumbent Republican Ron Wright in February 2021 due to COVID complications, Texas 6th Congressional District fell vacant. Despite Republicans being favored, there were chances of Democrats winning the seat after the district showed an improved Democratic performance in the 2020 US Presidential election. Trump won the district by 51 percent vote share while Biden won 48 percent vote share.
On May 1, 2021 Texas's 6th congressional district special election took place. The fight was between two Republicans, Susan Wright and Jake Ellzey and two Democrats' Jana Sanchez and Brain Harrison. Susan Wright is a widow of incumbent Republican Ron Wright. The election result did not throw up a clear winner as none of the candidates got 50% of vote. After the election, two Republican Susan Wright and Jake Ellzey got the maximum votes with Susan getting 19.21% votes and Jake Ellzey receiving 13.85%. Democrat Jana Sanchez received 13.4% vote share and thereby failing to make into the runoffs.
Since both the candidates are Republicans, the seat will remain with Republicans however, the final result will determine the influence of former President Donald Trump on the voters. Susan Wright has been endorsed by Trump. Before the special election, Trump said, "Susan Wright will be a terrific Congresswoman (TX-06) for the Great State of Texas."
Texas 6th Congressional Election Opinion Polls 2021: Opinion Poll
There has been no major opinion poll regarding the Texas 6th Congressional Election. One Opinion poll by American Viewpoint predicts win for Susan Wright. As per the poll, Susan Wright may get 49% of support in the upcoming July runoff. Jake Ellzey may win 34% of vote share. 11% of voters remains undecided.
Texas 6th Congressional Election Opinion Polls 2021: Who are Susan Wright and Jake Ellzey?
Susan Wright is the wife of incumbent Republican Ron Wright. She has been endorsed by former President Donald Trump. She has worked as a district director for state Reps. Bill Zedler (R) and David Cook (R).
Jake Ellzey is member of the Texas House of Representatives from the 10th district. He earned a degree from the United States Naval Academy in 1992 and Ellzey served in the U.S. Navy.
Texas 6th Congressional Election Opinion Polls 2021: Endorsements
US Senator Ted Cruz opposed Jake Ellzey. He said, "Texans in CD-6 deserve a strong conservative voice in Congress. Jake Ellzey's financial support from never-Trumpers, openness to amnesty, and opposition to school choice should concern Texans looking for a conservative leader." He pledged his support to Susan Wright on 14 June, 2021.
Special election candidate John Castro (R) opposed Susan Wright's candidature. He said, "I will not support anyone who is endorsed by Trump."
U.S. Sen. Marsha Blackburn (R-Tenn.) endorsed Susan Wright.
Texas 6th Congressional Election Opinion Polls 2021: Latest News
[26th July] Opinion: The extent of Trump's influence on today's GOP is about to be revealed
[26th July] Trump super PAC promoting Susan Wright ahead of Texas House runoff
Statement by Donald Trump a day before voting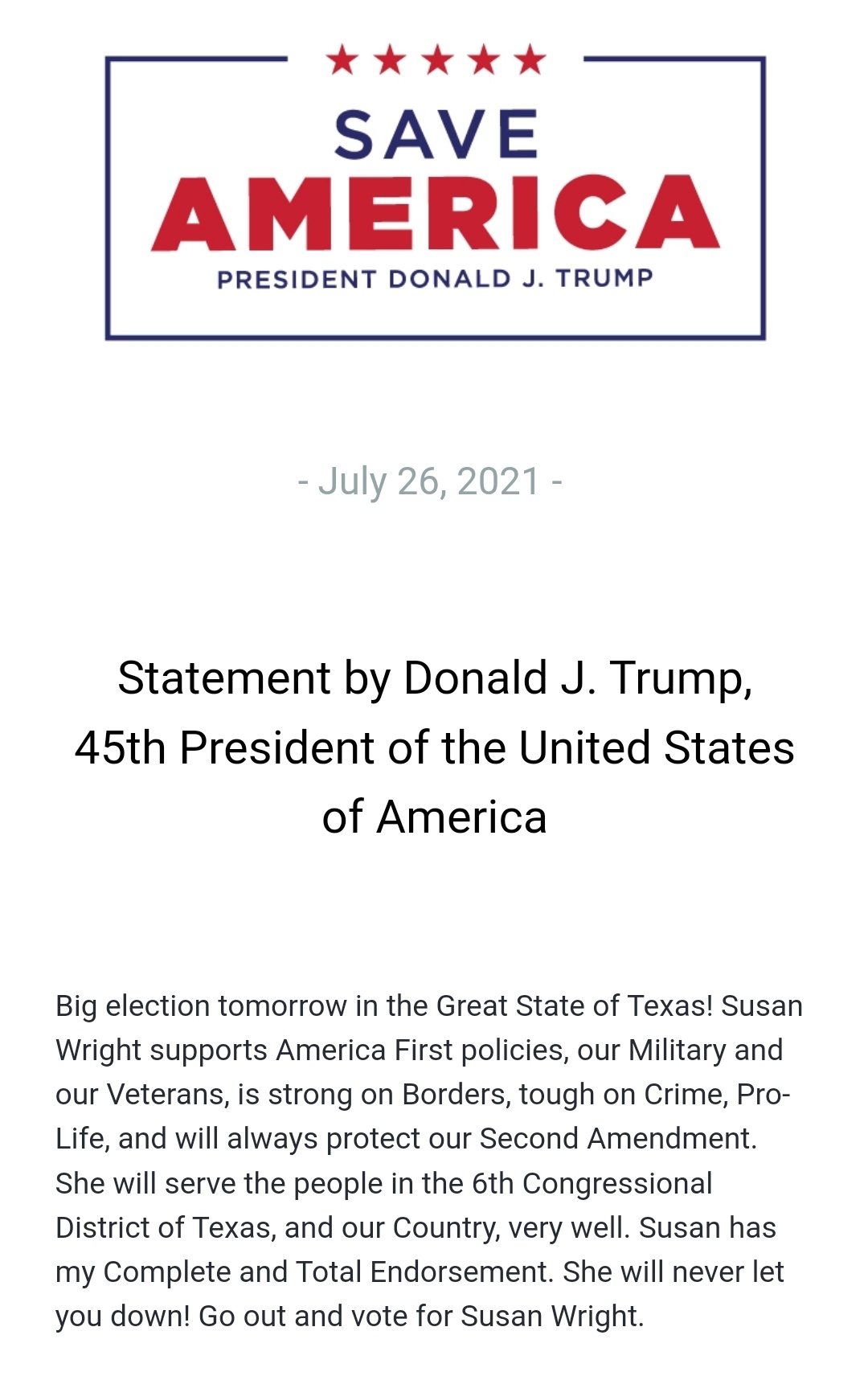 [25th July] Without Trump's backing, Jake Ellzey hopes to upset Susan Wright in runoff
[25th July] Trump's impact on the line in Texas special election
[24th July] Rick Perry: 'Trump couldn't pick Susan Wright out of a lineup', Rick Perry says Donald Trump was 'fed a bill of goods' before backing Susan Wright over Jake Ellzey
[24th July] Donald Trump's PAC makes last-minute ad buy for Susan Wright in District 6 congressional race
[22nd July] Texas House Race Is Trump vs. Perry by Proxy
[19th July] Joe Barton backs Jake Ellzey over Susan Wright in Congressional District 6 runoff for his old seat
Fox4News: Early voting begins for 6th Congressional District runoff election
SIXTH runway Texas Democrat tests positive for COVID after packing onto $100K private jet without masks to flee the state for DC to avoid voting on new voting law bill
Rawstory: Texas governor whines Dems standing up for voting rights is 'the most un-Texan thing you've ever heard'
WBAB: Former President Again Endorses Susan Wright For Congress
Texas 6th Congressional Election Opinion Polls 2021: When is the Election?
To fill up the vacant seat of Texas' 6th Congressional District, a special runoff election will be held on July 27. On May 1 2021, there were 23 candidates competing to fill up the seat that lay vacant after the death of the incumbent. From the 23 candidates now two candidates Jake Ellzey (R) and Susan Wright (R) are left who will be running in a July 27 election.
Read: 2021 Virginia Governor Election Opinion Polls and News