AMC Stock: AMC Jumps by 6%, as Market Recovers
AMC Stock: Highlights
–AMC Stock: Shares of AMC are expected to trade between $11.76 and $12.73 The overall momentum is Neutral.
–Zacks investment analysts rated this stock as a Hold.
AMC Stock: Latest Price
Read: LUCID Stock Forecast
AMC Stock: Momentum Summary
| | | |
| --- | --- | --- |
| Indicator | Trend | |
| Overall | Neutral | |
| Market's Wisdom | Neutral | |
| Volume | Lower | |
| Performance vs NASDAQ (Last 5 days) | Higher | |
| Technical | Neutral | |
| | | |
| Google Search | Lower | |
| Social Media Sentiment | Lower | |
AMC Stock: AMC Stock Performance in 2022
AMC posted a narrower than expected loss during the period. It suffered a loss of $134.4 Million from Oct 2021- Dec 2021 compared to a year earlier $946.1 Million during the pandemic. The first quarter of 2022 represented AMC's strongest first quarter in comparison with the two previous years. AMC Theatres had a crowd of almost 40 million visitors during the quarter who came to watch the legendary movies. Revenue for the company rose to $785.7 million from $148.3 million last year. The company ended its quarter with $1.3 Billion in available liquidity.
The markets have turned bearish and there are high chances of recession this year. AMC stock is down by 1% this week and is up by 6% on the month. AMC stock continues to hold the lows. It is currently having a 52 week high of $61 and a 52 week low of $9.70 while having an EPS of -2.50.
Even the greatest of movies couldn't make much profits for AMC Entertainment. S&P 500 is projected to fall in the next quarter and thus AMC Entertainment remains under pressure.
Also Read: HYMC Stock Forecast
AMC Stock: Technical Analysis
AMC Stock: CrowdWisdom360-Insights
CEO Adam Aron told

Reuters

that he wants to make further investments in financially struggling firms like Hycroft, leveraging the lessons gathered during the pandemic's lockdown to help other companies.
AMC Price: Google Search Trends
Search Trend for AMC is lower compared to 24 hours ago.
AMC Stock: Social Media Sentiment
| | | | | |
| --- | --- | --- | --- | --- |
| | Last 7 Days | Last 24 Hours | Trend | |
| Net Sentiment ($AMC) | -6.5% | -4.7% | Lower | |
AMC Stock Price: Latest Tweets
Originally tweeted by Tickeron (@Tickeron) on June 18, 2022.
$AMC enters an Uptrend as Momentum Indicator exceeded the 0 level on June 17, 2022. View odds for this and other indicators: https://srnk.us/go/3762023 #AMCEntertainmentHoldings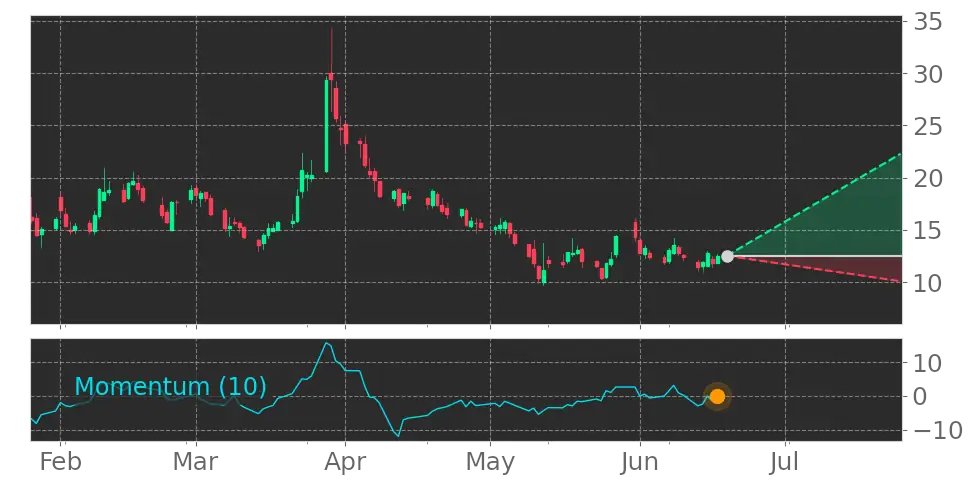 AMC Stock: Recent News
AMC stock has fallen nearly 8%in the last 24 Hours
AMC, the global cinema chain, has fallen by nearly 8% as markets pivot from Wednesday's relief rally.
AMC was about to go bankrupt due to the pandemic shutting all theatres. However, it survived by capital raising and debt rescheduling.
AMC and GameStop (GME) became the pandemic's two most prominent and traded stocks.
AMC Stock: AMC Q1 2022 Earnings
Q1 total revenues increased to $785.7 million, up from $148.3 million in Q1 2021
Net loss was $337.4 million versus $567.2 million in Q1 2021
Adjusted diluted loss per share was -$0.52 vs -$1.42 in Q1 2021
An Unusual Last Year for AMC Entertainment
AMC Entertainment rode the wave of "meme stock" trading on 2

nd

June and stock spiked to all time high of $72.62, a breathtaking upside from the

$2 price on 4th January 2021.
AMC reported it has sold 8.5 million newly issued shares to Mudrick Capitals, a favourite of reddit traders and that fueled frenzy trading in the stock. The company raised $230.5 million through the sale and plans to use that capital to upgrade theatres and deleverage its balance sheet.
The company launched a program called AMC investors connect in early June that is specifically designed to turn shareholders into customers, thereby taking benefits from the unseen rally.
CEO Sells Shares to Plan Retirement
AMC CEO Adam Aron sold 625,000 shares and plans to sell shares of this much quantum in near future under a selling program filed with the Securities and Exchange Commission. The sale is part of executive estate planning.
The shares were sold at an average price of $40.53, at a valuation of $25 million. AMC shares reacted to the news and fell 4 per cent to close at $38.29.
The filings with Exchange gave Aron the right to sell the stake of 1.25 million shares over the coming days or weeks. Aron currently holds 400,000 shares of unrestricted shares and 3.3 million shares of unvested restricted stocks and he needs to wait for some time so that restricted stocks vests to complete the sale of 1.25 million shares.
Aron turned 67 this year and is reported saying that prudent planning suggests he should diversify his assets fearing potentially soaring capital gains tax rates by Congress and significant changes to what can be passed to one's heir.
Q3 Earnings Beat Estimates and Crypto Payments Starts for AMC
During the third quarter, the company saw revenue rose to $425.1 million from $62.9 million in the year ago period and food and beverage sale also surged to $265 million from $29 million in a year ago period.
Diluted EPS stands at -0.44 per share and as operating costs outpaced its revenue, company posted a loss of $224 million for the quarter.
Good news is that AMC theaters have joined the crypto bandwagon and company's customers can do online payment via Bitcoin, Ether, Bitcoin Cash and Litecoin and Dogecoin is expected to be next cryptocurrency to be added in the pipeline.
Writer: Vineet Agarwal
Note: Crowdwisdom360 collates Predictions and data from all over the net and has no in-house view on the likely trends in the Index or Individual Stocks. Please consult a registered investment advisor to guide you on your financial decisions.