Ford Stock Forecast: $F Trades in green, Will the surge continue?
Ford Stock Forecast: Highlights
–Ford Stock Forecast: The overall recommendation is

Negative
-The average 12 month target for Ford is $17.
–Zacks Investment analysts rated this stock as

HOLD
Latest Ford Motor Company stock price
| | | |
| --- | --- | --- |
| Metric | Value | Trend |
| Share Volume | 44 M | Lower |
| Forward P/E 1 Year | 4.24 | N/A |
FORD stock Performance Vs Other EV Stocks
Ford Stock Forecast: Technical Analysis
Ford Stock Forecast: CrowdWisdom360-Insights
Ford Motor Company Announces Job cuts as it ramps up E.V. production in Spain.
Reportedly, Ford Motor Co F.N. is expected to begin producing electric vehicles in Spain, but with "significant" job cuts at its Spanish factory and another one in Germany amid its ambitious electrification push in Europe.
The U.S.-based carmaker also stated that it had chosen its plant in Valencia as the most preferred site to assemble vehicles based on a next-generation electric vehicle (E.V.) architecture.
Earlier, Ford warned that the shift to E.V. production would likely trim its workforce as electric cars require fewer labour hours to assemble.
Ford Stock Forecast: Mutual Funds with Ford Holdings
| | |
| --- | --- |
| Mutual Fund Name | Last 12-month return |
| Vanguard 500 Index Fund | 15.6% |
| Fidelity 500 Index Fund | 3.9% |
| iShares Core S&P 500 ETF | 15.6% |
Ford Stock: Sentiment Analysis
| | | | | |
| --- | --- | --- | --- | --- |
| | Last 7 Days | Last 24 Hours | Trend | |
| Net Sentiment ($F) | -2% | -12.6% | Lower | |
FORD Stock Forecast: Is Ford Stock expected to rise?
Ford has chosen Valencia for its new electric power plant production but it involves a significant amount of job cuts. The company plans to only sell electric cars in Europe by 2030. Ford also launched its first electric truck F-150 in May which received a high number of reservations. Ford has struggled to be profitable in Europe in the past but the launch of EVs could be a game-changer for the company. 
Ford has also extended a deal with Volkswagen that would double European EV production to 1.2 million cars by 2023.
It could be analyzed that the prices of the stock would increase in the long term but it is not much profit in the short term based on its history.
FORD Stock Forecast: Is Ford a good stock to buy?
Ford Motors is actively investing in the production of Electric Vehicles in Europe which is going to boost up their share because EVs are considered to be the future of the automobile industry.
Looking at the short-term plans, Ford faced issues with the safety of the vehicles and thus recalled a safety check of roughly 3 million vehicles which was a big hit to the company, and its share price dropped by 8%. Ford stock has weak earnings per share rating. It had an EPS of 1.59 while its competitors like Toyota had an EPS of 18.28 and Honda with an EPS of 3.66. The rating compares quarterly and annual earnings-per-share growth with all other stocks.
Taking both the analysis into consideration, Ford Motors is not a good option for buying stock.
FORD Stock: Momentum Summary
| | | |
| --- | --- | --- |
| Indicator | Trend | |
| Overall | Negative | |
| 1a. Market Data | Negative | |
| Volume | Lower | |
| Performance vs Peers (Last 5 Days) | Lower | |
| 1b. Technical | Sell | |
| 2. Crowd's Wisdom | Marginally Negative | |
| Google Search Trend | Steady | |
| Social Media Sentiment | Lower | |
FORD Stock: Latest Tweet
Originally tweeted by UltraAlgo™ (@ShortAlgoTrades) on June 28, 2022.
$F Trading Ideas | Awaiting Short signal. 100% Profitability based on 2 trades. Profit factor is 100. Learn more at http://UltraAlgo.com.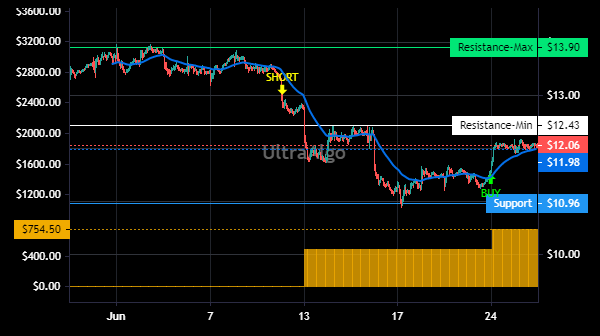 FORD Stock Forecast: Ford Stock Buy, Sell or Hold?
According to Bloomberg News, Ford is planning a $20 billion boost in its investment in electric vehicles. Ford already aims to invest $30 billion in electric vehicles through 2025, so any new investment would be in addition to that. Ford's investment in electrification contributed to a 140% increase in the stock price in 2021.
In February, Ford's retail sales were down. Ford sold 129,273 vehicles in total last month in the United States. This is down 20.9% from the previous year's figure of 163,520 automobiles. Car sales fell 45% in February compared to the same month last year, to 4,719 vehicles from 8,516. Sales of trucks and SUVs were also down by double digits year over year.
Ford's stock plummeted after the company missed its Q4 earnings and revenue projections on February 3rd. Chip shortages and supply issues, according to the manufacturer, might last until early 2022. The only good thing is that the orders for new vehicles are still coming at a good pace. Last month, Ford received orders for 72,000 new vehicles. Ford still has some weaker signals. It may continue to go down further for several days or weeks.
Ford Stock Buy, Sell, or Hold? So, the recommendation is holding this stock for now.
Read: Best EV stocks to buy in 2022
Ford Stock Forecast: Google Trends
The Google search volume of Ford is Steady since last 24 hours.[Move the cursor on the chart to see the latest and compare it with 24 hours ago]
What Is Ford Stock's Outlook For 2022?
Ford Stock Forecast: Conclusion
Ford Motors has been outstanding as a stock in last one and half year since March 2020 when it touched a bottom of $4.3. It has touched $20 dollars for the first time since 2001 and that speaks volume of its what has gone behind the scenes in last several years to take that uplift.
Recently company has faced various issues like chip supply, wage labor, manpower shortage but a good company takes everything in its stride to leap towards future growth. Ford has invested heavily on EVs and its partnership with Rivian takes that a step forward. Also deal with Walmart and SK innovation only uplifted morale of investors.
Vineet Agarwal
Read: Tesla Stock Prediction: TSLA
Note: Crowdwisdom360 collates Predictions and data from all over the net and has no in-house view on the likely trends in the Stocks or Crypto Coins. Please consult a registered investment advisor to guide you on your financial decisions