JPM JP Morgan Stock Forecast: Heading Lower on Macro uncertainty?
JPM JP Morgan Stock Forecast 2022: Performance of JPM JM Morgan Stock in 2022
Originally tweeted by Yahoo Finance Plus (@yfinanceplus) on July 14, 2022.
JPMorgan Chase & Co. is trying to shrug off a hefty earnings miss on Thursday, with shares falling around 4.5% in the early morning trading window. $JPM CEO Jamie Dimon also signaled his anticipation of further economic turmoil.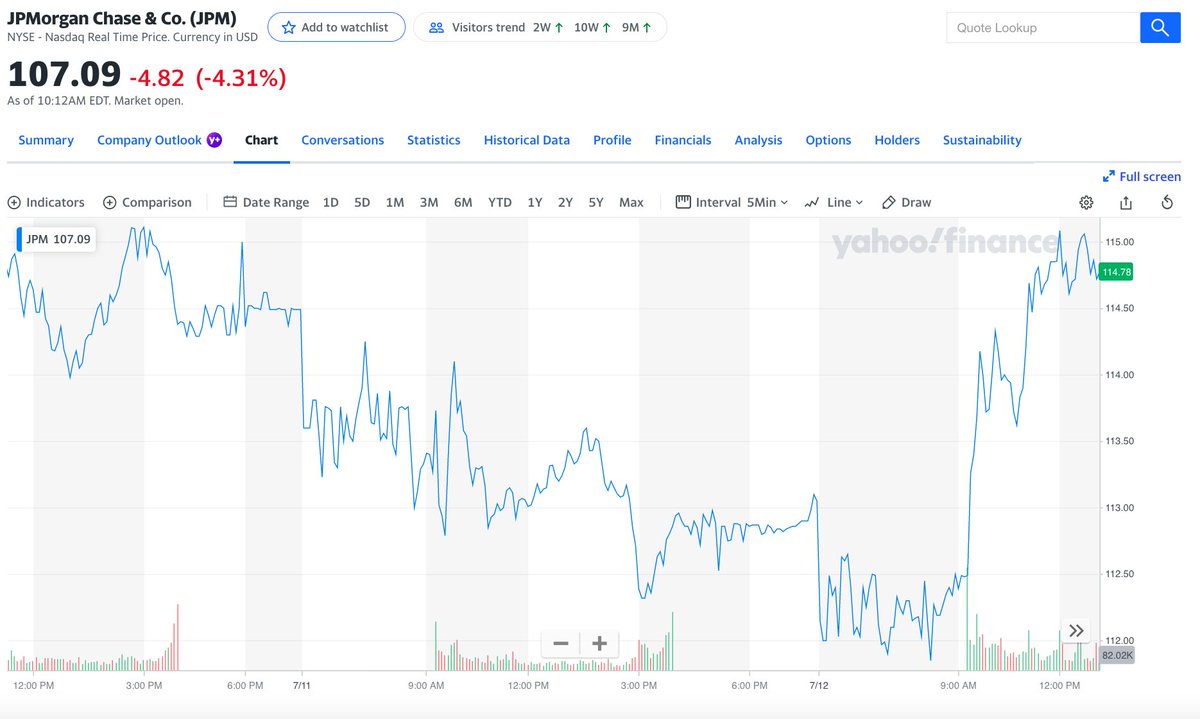 JPM JP Morgan Stock Forecast: 2022 Review
JPM JP Morgan is having a downfall during the first half of 2022. The year started at $159.86 and is now dropped to $112.65.
| | | |
| --- | --- | --- |
| Date | Price | |
| December 31st, 2020 | $125.09 | |
| January 4th, 2021 | $124.78 | |
| October 25th, 2021 | $172.96 | |
| December 30th, 2021 | $158.48 | |
JPM JP Morgan Stock Prediction 2022
JPM JP Morgan Stock Forecast: Technical Analysis
JPM performance on last trading day
Open: $141.31
Close: $138.87
Gain/Loss: -1.65%
Volume: 8,866,912
JPMorgan Stock after touching a high of $172.52 on October 26th, has retraced 26.5% and is trading below $120. It has been a volatile journey for the stock
On 5th Nov 2020, the stock was trading at $105,
In 12 months after that, it shot up to $172
This rally was in the backdrop of very low-interest rates by Fed and demand recovery post-Covid 19. But the stock is in a downtrend right now.
The first support is around the current level of $127.32, as the stock reversed from this low on 27th January. The Stock should regain this level soon
The next support is at $118.30, the level formed on 18th December 2020, the reason being, stock consolidated at this level for more than a month from 9th November 2020 to 18th December 2020 before starting the upward journey.
$105 should be very strong support as the stock broke this level with a very strong green candle.
Talking about resistance
$134 should act as the immediate resistance as the most recent downtrend started from this level.
After this, if the uptrend continues, then the $144, the level formed on 22nd March should act as strong resistance, just as it did to restrain the stock movement in the month of March.
Beyond this level, the $159, the level formed on 10th Feb 2022 should be a very strong resistance because the stock could not break this level in spite of being in a very strong bullish trend from 24th January 2022 till 10th February 2022.
JPM JP Morgan Stock Forecast: Fundamental Analysis
Impact of Russia Ukraine War – Sanctions imposed on Russia are likely to reduce Russia's GDP by 12.5%, Europe's GDP is expected to grow only by 2% in 2022 instead of the 4.5% expected earlier. Similarly, the US economy is expected to grow at roughly 2.5% instead of 3%. All these slowdowns will have an impact on the bank in the form of demand. This global slowdown does not present a conducive environment for the growth of banks and it will slow down the top and bottom growth of JP Morgan going forward.
Impact of Fed Increasing the interest rates – One more event that has an unparalleled impact on the global world is Covid 19 and due to that global banks have had to adopt quantitative easing to cushion the impact of Covid 19 on the general public. Fed reduced the interest rates substantially to push the demand.
But lately, in 2022, the US is facing the issue of inflation and Fed is now increasing the interest rates. The US is moving from quantitative easing to quantitative tightening. The shift in QT from QE will have a major impact on the flow of funds from and to Treasury Bonds and therefore all securities. This is going to impact the balance sheet of JP Morgan in the coming quarters.
Analysis of Q1-2022 results –The impact of the above-discussed factors is visible in Q1 2022 results declared by JP Morgan on 13th April 2022.
The net adjusted earnings per share came at $ 2.76 per share vs a $2.69 estimate
The revenue came at $31.59 billion vs $30.86 billion estimates.
The profits fell 42% YoY to $8.28 billion or $2.63 a share
The adjusted earnings of $2.76 exclude the 13 cents impact tied to the Russia Ukraine war.
These results show how quickly the scenario changes in a year. Last year, banks were getting benefits as loan loss reserves were released amounting to billions of dollars. Bank took nearly $900 million as credit reserves for anticipated loan losses against $5.2 billion released last year. Bank also reported that it booked $524 million in losses due to Russia's invasion of Ukraine. High credit reserves are marked due to the downside risk of high inflation fears.
JPM Stock Forecast: Conclusion
JPMorgan Chase & Co. is a global leading bank and is considered to be one of the safest bets around the globe in terms of investment. But lately, things are not all well on the global front due to the Fed increasing interest rates in every meeting due to inflation fears and Russia Ukraine war and resulting sanctions on Russia propelling the slowdown in the economy. These factors are going to have some future lasting effects on all banks and JP Morgan is no exception.
Technically, the fact remains that the stock chart is in a downtrend and Q1 2022 results have triggered the downfall further on the backdrop of reduced profits due to factors discussed above. The stock is likely to remain in the same trend for at least some time till the global factors stabilize. But every downfall also presents an opportunity to include one of the elite banks in the portfolio. The stock is not meant to buy at current levels, but it should not be sold either in panic.
–Vineet Agarwal
Check out our other stock forecasts here
Note: Crowdwisdom360 collates Predictions and data from all over the net and has no in-house view on the likely trends in the Stocks or Crypto Coins. Please consult a registered investment advisor to guide you on your financial decision