Microsoft Stock Forecast 2022 is revised LOWER to $292
Microsoft Stock Forecast 2022: MSFT Stock Forecast for the next 12 months is $292(Revised Lower on July 27th).
Microsoft cut guidance for the quarter by $0.5 B on June 2nd
Latest Microsoft Stock Price
Performance Summary
MSFT is by and large tracking the index this year
Microsoft cut guidance for the quarter on June 2nd. Revised High Revenue is $52.7 B, Revised Low Revenue is $51.9 B, this is lower by $0.5B. MSFT is down 8.8%, marginally better than NASDAQ and AAPL.
A CNBC analysis suggested that Apple's new M2 Chips will gain share from Microsoft. However, there isn't any difference in share performance over the last 7 days.
Crowd's Voice
Microsoft Stock Forecast: Technical Recommendation
Microsoft Stock Forecast 2022: 12-Month Forecast
MSFT Forecast 2022: Google Search Trends
Search trend for Microsoft is Lower compared to 24 hours ago.
MSFT Latest Prediction Tweets and News
Originally tweeted by The Bon_Scott (@TheBon_Scott) on August 29, 2022.
#Microsoft is already below its 50 dma while the $NDX and $COMPQ are trying to bounce of theirs' (support). This is *not* what bulls want to see. The generals continue to rollover. $MSFT $QQQ #Nasdaq100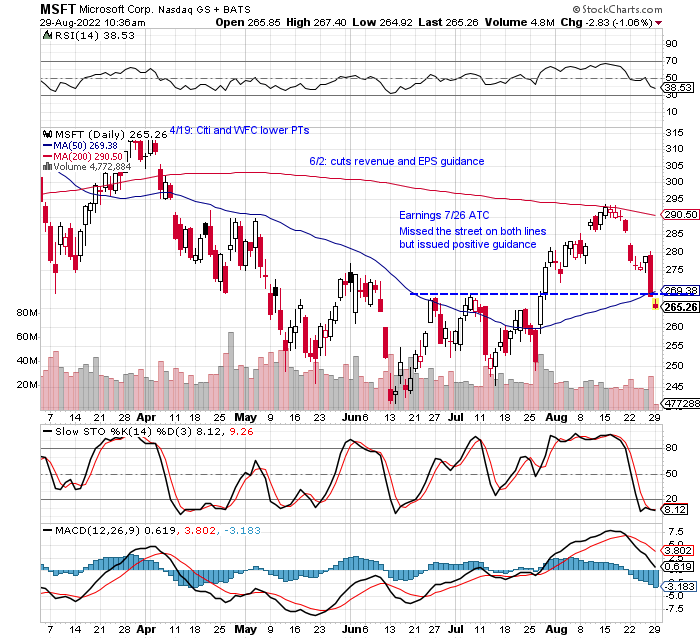 Microsoft Stock Forecast: Q4 (April-June 2022) Earnings Update
Revenue up 12.3%, Product revenue down 5.1%, Service revenue up 24.6%
Costs up 17.4%, Product Costs up 2.05%, Service cost up 24.40%
Share of service revenue of overall revenue is 65%, up from 59% in Q4 2021
Net Income up 2%
Diluted EPS up 2.8%
Check out our Extensive US Stocks and Crypto Content
Note: Crowdwisdom360 collates Predictions and data from all over the net and has no in-house view on the likely trends in the Stocks or Crypto Coins. Please consult a registered investment advisor to guide you on your financial decisions.