MPC Stock Forecast: MPC likely to head lower recession worries increase
MPC Stock Forecast: Latest Price
MPC Stock Forecast: Performance Chart
| | | | | |
| --- | --- | --- | --- | --- |
| Stock Name | 5 Days | 1 Month | 6 Months | 1 Year |
| VLO | -2.54% | -10.20% | +22.13% | +68.91% |
MPC Stock Forecast: Latest Tweet
Originally tweeted by SimplyRobo (@simply_robo) on July 18, 2022.
$MPC Marathon Petroleum Corporation is overvalued with a -64% margin of safety

Current: $84.42
Low: $30.4
Median: $44.04
High: $59.44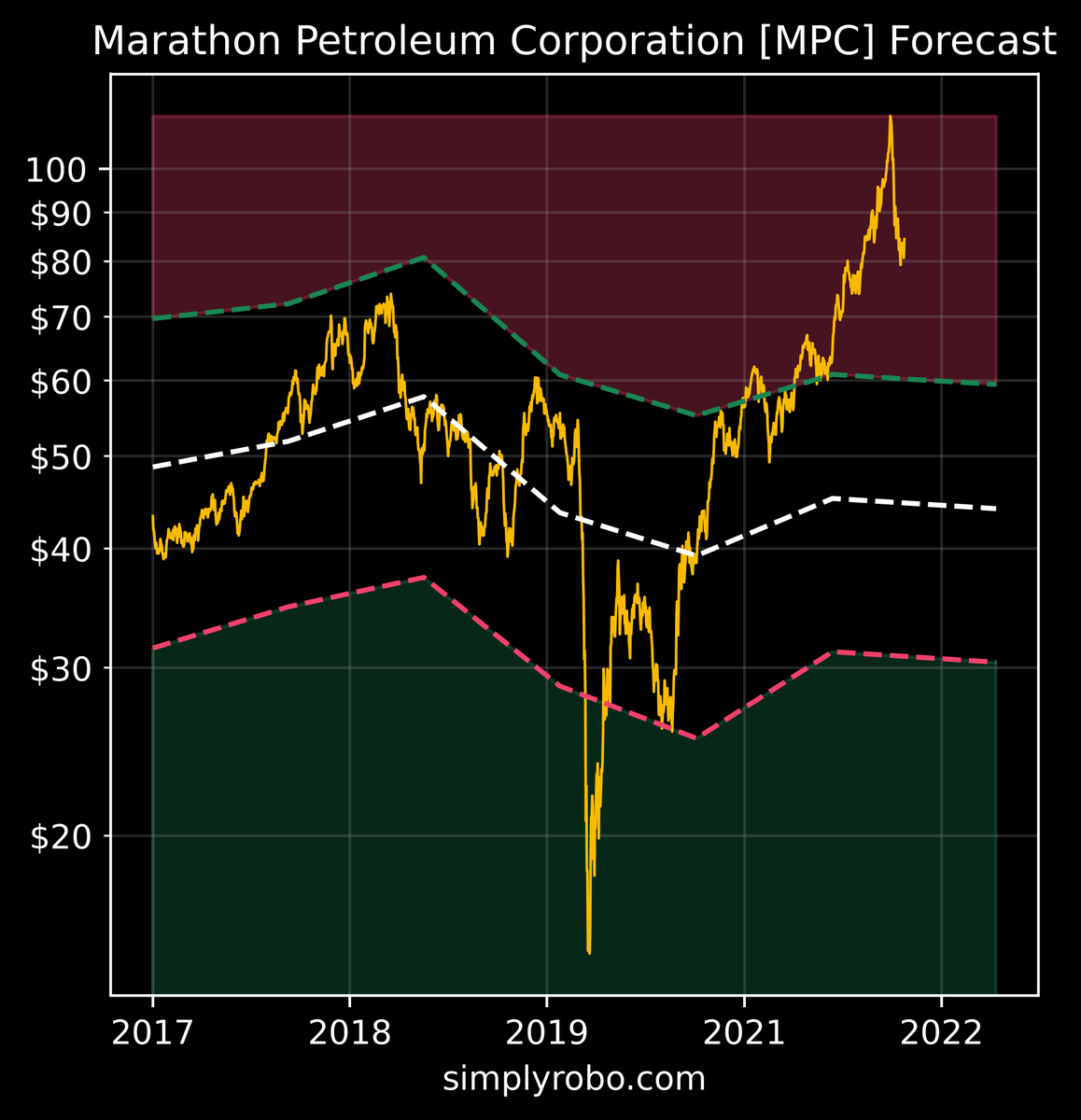 MPC Stock Forecast: Today's Outlook
| | |
| --- | --- |
| Indicator | Trend |
| Overall Outlook | Negative |
| Market Data |  |
| Market Cap | Higher |
| Technical | Neutral |
| Trading Volume | Lower |
| Crowd's Wisdom |  |
| Google Search Volume | Lower |
| Social Media Sentiment | Lower |
Also Read: Chevron Stock Forecast 2022
MPC Stock Forecast: Is it a buy?
MPC has shown all the positive signs in today's outlook – its strong financials can be attributed to that. It has been overperforming the market. On Friday (8-07-2022), when S&P500 was down by 1.2% and Dow lost 0.5%, MPC was up by 0.4%. In August, it is expected to post $5.5 EPS showing a 717.9% YoY growth. It has received a Zacks rank of "1" indicating a buy because of this. This company stands in the top 3% of its industry. The industry has been declining given the war and inflation but, some stronger companies like MPC are keeping up.
It has a PEG ratio of 0.3 versus the industry average at 0.5. It also has a earnings yield of 17.5% as compared to the industry average of 15.9% making the stock attractive especially for growth investors. It currently has a "buy" rating because the stock is underhyped this week but, is expected to pick up soon.
MPC Stock: Latest Video
MPC Stock Forecast: First Quarter Earnings Summary
In the first quarter of 2022, MPC reported EPS of $1.5 as compared to $0.4 in the first quarter of 2021. The estimate for the coming quarter is $6.1.
The reported revenue in the first quarter of 2022 was $38.4B and it is expected to be $39.5 in the second quarter.
The President and CEO J. Hennigan announced 15% Scope 3 absolute greenhouse gas emission reduction target by 2030.
The company has completed $8 billion share repurchase from their $10 billion return of capital program.
MPC Stock Forecast: Google Trends
MPC Stock Forecast: Technical Analysis
– Nandini Panchal
Note: Crowdwisdom360 collates Predictions and data from all over the net and has no in-house view on the likely trends in the Stocks or Crypto Coins. Please consult a registered investment advisor to guide you on your financial decisions