NEE Stock Forecast: Stock Remains stable amid inflation blues, time to buy?
NEE Stock Forecast 2022: Performance of NEE Stock in 2022
NEE Stock Forecast: Performance Chart
| | | | | |
| --- | --- | --- | --- | --- |
| Stock Name | 5 Days | 1 Month | 6 Months | 1 Year |
| NEE Stock | -0.88% | +8.52% | -5.48% | +2.28% |
NEE Stock Forecast: Latest Tweet
Originally tweeted by BSMARKER (@bs_marker) on July 19, 2022.
Stock: $NEE – NextEra Energy
*** NEWS ***
Lehman & Derafelo Financial Re – http://GuruFocus.com
https://www.gurufocus.com/news/1831325/lehman-derafelo-financial-resources-llcs-top-5-buys-of-the-2nd-quarter
Try now the Best Pivot Point Calculator!! https://bsmarker.com/view.php?symbol=NEE
#tradingview
#stocks
#stockstowatch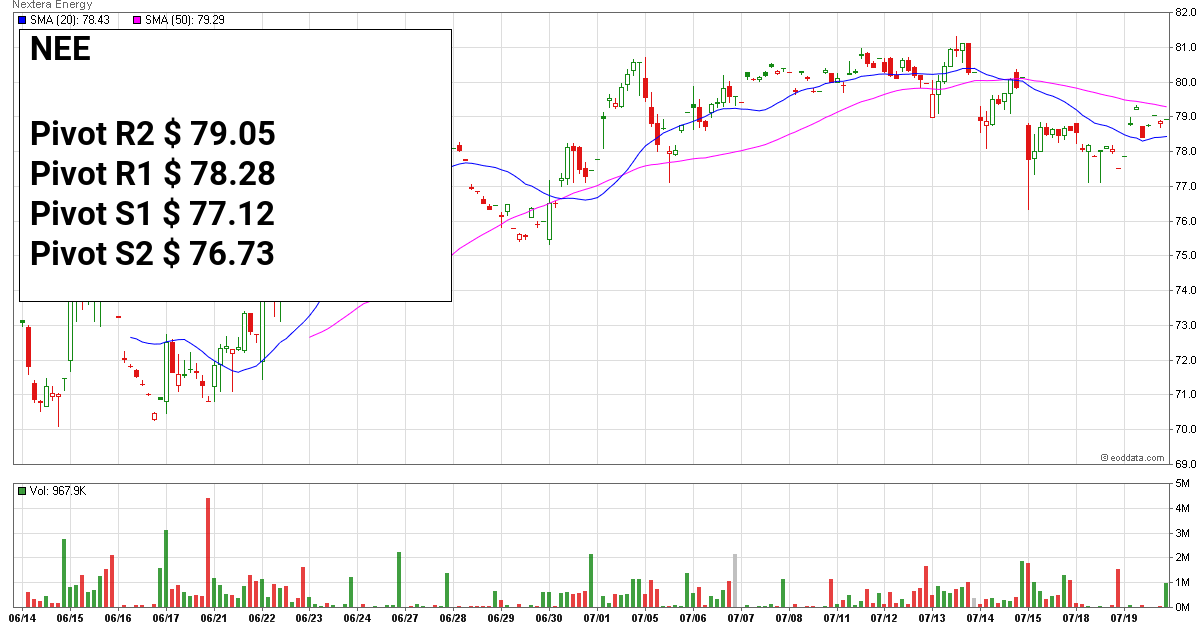 Nee Stock Forecast: 2021 Review
| | | |
| --- | --- | --- |
| Date | Price | |
| December 31st, 2020 | $75.90 | |
| March 22nd, 2021 | $70.76 | |
| December 30th, 2021 | $92.91 | |
| December 30th, 2021 | $92.77 | |
NEE Stock Prediction 2022
Also Read: PLUG Stock Forecast 2022
NEE Stock Forecast: Why is NEE Stock Down?
NEE is showing favorable growth with proper execution of projects and by serving more customers as well. They have expanded their operations and have a lot of renewable projects in the pipeline. It has some level of stability because retail electricity/energy users are not going anywhere, under any circumstances. However, the stock of NEE is dipping – This is because, despite the impeccable planning and targets that go into this business, it is still highly affected by macroeconomic factors.
Due to trade wars, solar cell trading countries were reviewed in the US. There is a lack of direct orders on the subject which is the root cause of uncertainty for NextEra projects – The CEO speculated that the projects might have to be delayed. Dividend payments are going to increase which is beneficial for those who are in this for the long run but, investors sold their shares regardless.
NEE Stock Forecast: Latest Video
NEE Stock Forecast: Latest News
Owing to the uncertainties and price drop this week, price targets were further reduced by the analysts to $93.00 from $105.00. The predictability of its stock is still higher than its counterparts in this inflation – it is considered to be one of those stocks that have some level of resistance against this inflation. NextEra has a diverse portfolio of solar energy, natural gas and other renewable sources. NextEra has a dividend yield of 2.1% and plans to raise its dividend in lockstep with earnings growth which is why it is a good choice for investors in the long-term. Even after this slow-down, investors expect NextEra to report a post-earnings of $0.75 per share.
NEE Stock Forecast: Google Trends
NEE Stock Forecast: Technical Analysis
–Nandini Panchal
Note: Crowdwisdom360 collates Predictions and data from all over the net and has no in-house view on the likely trends in the Stocks or Crypto Coins. Please consult a registered investment advisor to guide you on your financial decisions.