Rivian Stock Forecast and Prediction: RIVN Stock Keeps Sliding drops by 2%
July 1st 2022, Rivian Stock Forecast: In the next trading session, the stock price of RIVN is expected to trade between $23.8 and $26.7
The Current Outlook for Rivian remains

Negative
The Average Rivian Stock Prediction 2022 for the next 12 months is $63
Latest Rivian Stock Price
| | | |
| --- | --- | --- |
| Share Volume | 5K | Lower |
| Forward P/E 1 Year | -4.03 | N/A |
Rivian Stock: Performance Analysis
| | | | |
| --- | --- | --- | --- |
| Stock and Period | 5 days | 1 Month | YTD |
| Lucid | -12.6% | -13.0% | -58.0% |
| TSLA | -6.3% | -10.1% | -43.8% |
| NIO | -1.7% | +42.7% | +48.9% |
| RIVN | -14.5% | -16.7% | -74.9% |
Rivian Stock Forecast: Short-term Outlook
| | | |
| --- | --- | --- |
| Indicator | Trend | |
| Overall | Negative | |
| 1a. Market Data | Negative | |
| Volume | Lower | |
| Performance vs Peers (Last 5 Days) | Lower | |
| | | |
| 1b. Technical | Sell | |
| | | |
| 2. Crowd's Wisdom | Negative | |
| Social Media Sentiment Trend | Lower | |
| Google Search Trend (Weekly) | Lower | |
Rivian Stock: Mutual Funds with Rivian Holdings
| | |
| --- | --- |
| Mutual Fund Name | 12 months return |
| SPEDX – Alger Dynamic Opportunities Fund Class A | -5.75% |
| American Funds AMCAP Fund | -2.55% |
| American Funds Growth Fund of America | -1.99% |
Rivian Stock Prediction: Google Search Trend
Google Search volume for Rivian Stock is Lower since last week.
Read about Tesla Stock Forecast
Rivian Stock Prediction: Technical Analysis
| | | | | |
| --- | --- | --- | --- | --- |
| Source | Support | Resistance | Recommendation | |
| Investing | $24.30 (S3) | $26.94 (R1) | SELL | |
| Barchart | $23.30 (S3) | $26.50 (R1) | N/A | |
Rivian Stock Forecast: RIVN Stock Tweet
Originally tweeted by Will Smith (@EyeingOptions) on June 30, 2022.
$RIVN watching for a bounce or a break below 25.50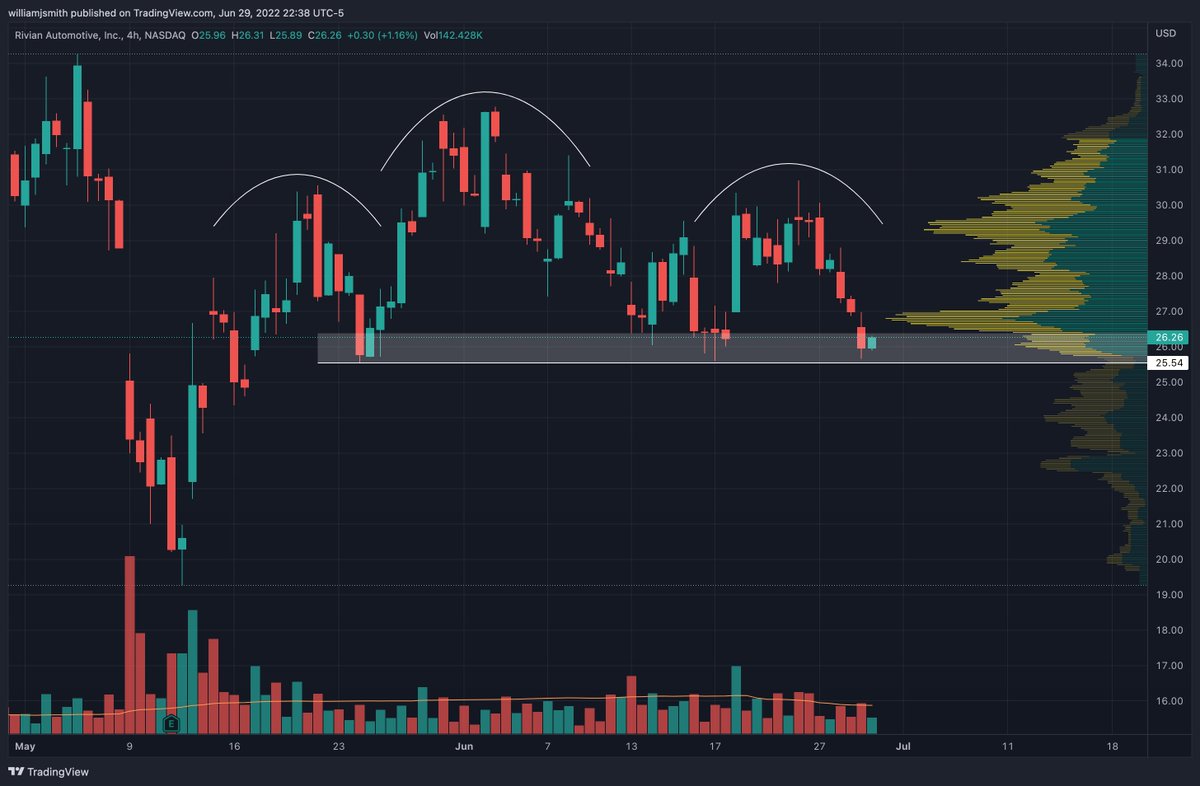 Read: NIO Stock Forecast
Rivian Stock: Social Media Sentiment
| | | | | |
| --- | --- | --- | --- | --- |
| Period | Last 7 Days | Last 24 Hours | Trend | |
| Net Sentiment ($RIVN) | -4.3% | -10.8% | Lower | |
Rivian Stock Prediction 2022 for the next 12 months, May 16th
Rivian Stock Forecast: CrowdWisdom360-Insights
Why are Rivian shares falling?
Despite the electric vehicle (EV) start-up, Rivian has announced some new progress this week
The stock continued to slide down by almost 10% off its share price
This extended slide of Rivian shares comes as the macroeconomic backdrop appears to make investors worrisome
With inflation concerns, rising interest rates, and anticipated global economic slowdowns, investors may be wondering whether Rivian will manage to survive.
In addition, Investment bank Mizuho has lowered Rivian's stock price, one year out, from $80 per share to just $70, and as of 1:20 p.m. ET, the shares are down currently down by 4.2%
Rivian Launches Three Fast Charging Sites
This week, Rivian opened three fast-charging sites, initially providing over 200 kilowatts of power
With this, Rivian drivers can add as much as 140 miles of range in just 20 minutes and create new opportunities for sustainable adventure.
The first Rivian Adventure Network site is at Salida, Colorado, with four chargers and a pull-through charger.
The second and third Adventure Network sites are in Inyokern and Bishop, California.
Why Should Rivian Stock Holders Be Cautious?
Rivian stock is constantly setting lower lows, pushing investors in pain from IPO day.
However, it doesn't mean that RIVN stock is not worth it because the company is trying its best to recover. Even auto experts like Ford have lost a lot of money with it.
But investors should be cautious while investing because Wall Street has no proof of any success yet, a significant disadvantage that startups have.
Moreover, the CBOE Volatility Index (INDEXCBOE:VIX) has been too high.
Rivian Q1 Earnings Summary
Total Production: 2553 vehicles, Total Deliveries: 1227 vehicles
Revenue of $ 95m
Expenses including the cost of revenues at $1579m
Net loss per share $1.77
Vineet Agarwal
Note: Crowdwisdom360 collates Predictions and data from all over the net and has no in-house view on the likely trends in the Stocks or Crypto Coins. Please consult a registered investment advisor to guide you on your financial decisions.