Robinhood Stock Forecast: Hood falls in the pre-market, Outlook is Buy
Robinhood Stock Forecast 2022: Performance of Robinhood Stock in 2022
| | | | | |
| --- | --- | --- | --- | --- |
| Stock Name | 1 day | 5 days | 1 Month | 1 Year |
| Hood Stock | +4.76% | +10.12% | +19.60% | -74.07% |
Robinhood Stock Forecast: Latest News and Tweets
Originally tweeted by Tickeron (@Tickeron) on July 20, 2022.
$HOOD in Uptrend: RSI indicator exits oversold zone. View odds for this and other indicators: https://srnk.us/go/3849582 #RobinhoodMarkets #stockmarket #stock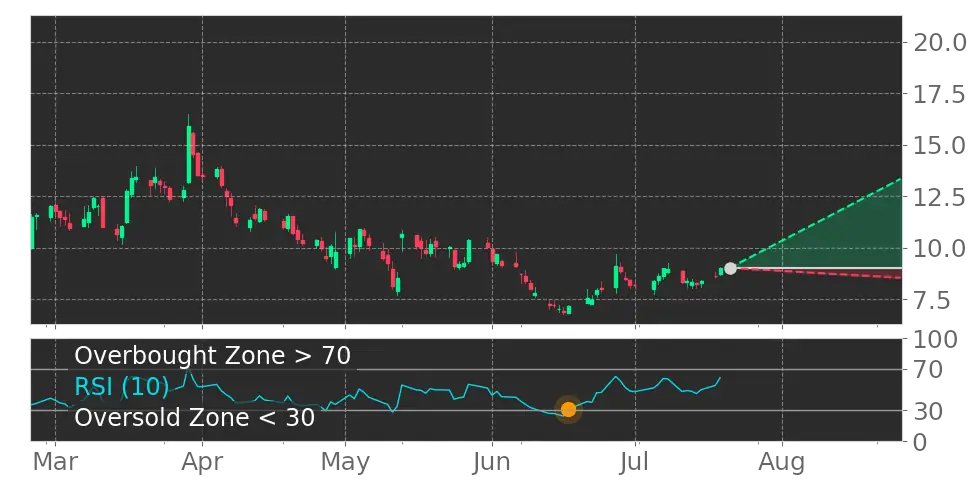 Robinhood Stock Forecast: 2022 Review
| | | |
| --- | --- | --- |
| Date | Price | |
| December 29th, 2021 | $16.68 | |
| August 4th, 2021 | $84.12 | |
| December 31st, 2021 | $18.12 | |
Robinhood Stock Forecast: 2022 Review
Robinhood Stock Forecast: Latest Videos
See-Saw Journey Since IPO in Late July
Heading into 2021, Robinhood was expected to be one of the most successful IPO, it was widely hyped and investors claimed that Robinhood democratized Wall Street trading, but shares of Robinhood plunged since company's debut in last year July.
The online discount brokerage stock is now trading 40% below its IPO price of $38 a share and is nearly down 75% off all-time intraday high of $85, Robinhood hit in early August, just few days after it began trading.
Robinhood faced wrath of investors and general public after it put restrictions on purchase of GameStop (GME), a meme stock popular with reddit traders. The move was questioned by investors as Robinhood way of helping the hedge funds who were short on GameStop and were betting against it.
Similarly, Robinhood also limited the amount of shares an investor could buy in AMC (AMC) and other such meme stocks that were being shorted by big institutional players. Company also disappointed the public with recent quarter results by posting a bigger loss than expected despite huge surge in trading volume of cryptocurrency like bitcoin, ethereum and Dogecoin.
So, Robinhood has been all over the places in last six months and is being very volatile due to the negative and positive factors inhibited in its business modalities.
The Bear Case of Hood Stock
Robinhood disrupted the market by offering commission free stock trading, Robinhood mainly sells its orders to market big players like high frequency trading firms (HFTs), which rely on bid-ask spread for their profit of each trade. The critics call this model as "payment for order flow" (PFOF) and it prevents the retail investors from getting best price for a stock.
The bad news for Robinhood is that it is already banned in Canada, the UK and Australia and regulators in US and Europe have also began scrutinizing the process and it represents a major chunk in Robinhood revenue. If PFOF model is banned, Robinhood will have to begin charging commission and that will hurt Robinhood investors even more.
Robinhood is heavily dependent on Dogecoin and 62% of its cryptocurrency based transaction revenue and 32% of its net revenue in second quarter is contributed by Dogecoin, a speculative currency which has lost half of its value in last six months. In third quarter, that declined significantly to 40% of transaction based revenue and 8% of its net revenue.
The market interest is slowly wading away from Dogecoin and is shifting to Shiba Inu (still not offered on Robinhood) and this might throttle Robinhood growth in near term. To make matters worse, Robinhood's crypto platform is subjected to regulations evolving around Bitcoin and other cryptocurrency and if these rules are tightened, Robinhood could suffer even more.
Last quarter, Robinhood disappointed Wall Street with its results. Its monthly active users (MAUs), funded accounts, assets under custody (AUC) and average revenue per user (ARPU) all declined sequentially due to decrease in Dogecoin trades and competition from other free trading platform and burnout of the "meme stocks".
The company expects revenue to rise 85% this year but it is well below analysts' expectations of 111% growth. It is also significantly lower than 245% growth in 2020 and analysts' expects revenue to increase by only 22% next year.
Robinhood reported a revenue of $7.4 million from $958.8 million revenue last year and this year it reported a staggering loss of $3.26 billion for first 9 months of 2021. $1.25 billion of these losses came from stock based compensation, which points out that those hefty bonuses were paid to the top executives.
As number of users likely to remain muted, and Dogecoin future remain vague, analysts' expects Robinhood to remain unprofitable in the coming quarters and so they are bearish on the stock. But there is another side of the coin, the positive side, which is depicted below.
The Bull Case of Robinhood
Granted that the Robinhood 's growth through the pandemic was driven by investment fads like meme stocks and speculative cryptocurrency, but what Robinhood has done is it has made a loyal customer base in US youth who have jumped into trading just because of Robinhood, otherwise they would not have done, and this base is going to help Robinhood sail the tide.
Robinhood is proving to be agile and innovative and with a customer base of 22 million funded accounts, Robinhood can cross sell other financial products. Robinhood is adding new features to its crypto brokerage solution which could enable it to fight with Coinbase.
Robinhood now trades at much discounted price of 75% lower than all-time high and it gives investors a decent entry point, should Robinhood price again rebound on some other meme stock in near future.
Robinhood's journey resembles Facebook's (Meta), whose IPO was coincidently being priced at $38 and which saw a major drop in initial months after IPO, but is now a darling of the Wall Street worth nearly $1 trillion.
Definitely, for Robinhood there is stiff competition from Morgan Stanley, Fidelity but six analysts have still rated Robinhood as "buy". Given all factors, it is time to stay low on Robinhood and keenly watch its growth trajectory in the coming quarters.
-Vineet Agarwal
Note: Crowdwisdom360 collates Predictions and data from all over the net and has no in-house view on the likely trends in the Stocks or Crypto Coins. Please consult a registered investment advisor to guide you on your financial decisions.