Tesla Stock Forecast: $TSLA Falls by 2%, what's ahead for Tesla?
Latest TESLA Stock price
| | | | |
| --- | --- | --- | --- |
| Metric | Value | Trend | |
| Share Volume (Compared to Previous Day) | 181K | Higher | |
| Forward PE (1 Year) | 91.37 | N/A | |
Read about Tesla Stock Forecast 2022 here
Tesla Stock Forecast: Performance Chart
Tesla Stock Forecast: Competition Analysis
Tesla Stock Forecast: Momentum Summary
Indicator
Trend

Overall

Negative

1a.

Market Data

Neutral

Volume
Higher
Performance vs NASDAQ (5 Days)
Lower
1b. Technical
Sell
2.

Crowd's Wisdom

Negative

Google Search
Steady
Social Media Sentiment
Lower
Tesla Stock Predictions: Technicals
Tesla Stock Predictions: Google Search Data
Search on Google for Tesla Stock is Steady since last 24 hours. [Use the cursor on the chart to see how things have moved over the previous session at that point in time]
Also Read: Tesla Q4 earnings
Tesla Stock Predictions: Latest Tesla Tweet
Originally tweeted by Abhipra (@AbhipraGroup) on July 1, 2022.
#TeslaInc $TSLA Weekly Chart
#SuperTrend suggests #Bearish trend
#Resistance level at 841.05
#SmoothedHeikenAshi suggests #Bearish trend
Relative Strength Index (#RSI) in Neutral zone
Start #investing in #GlobalStocks at https://bit.ly/3AvEts7
#Investor #Trading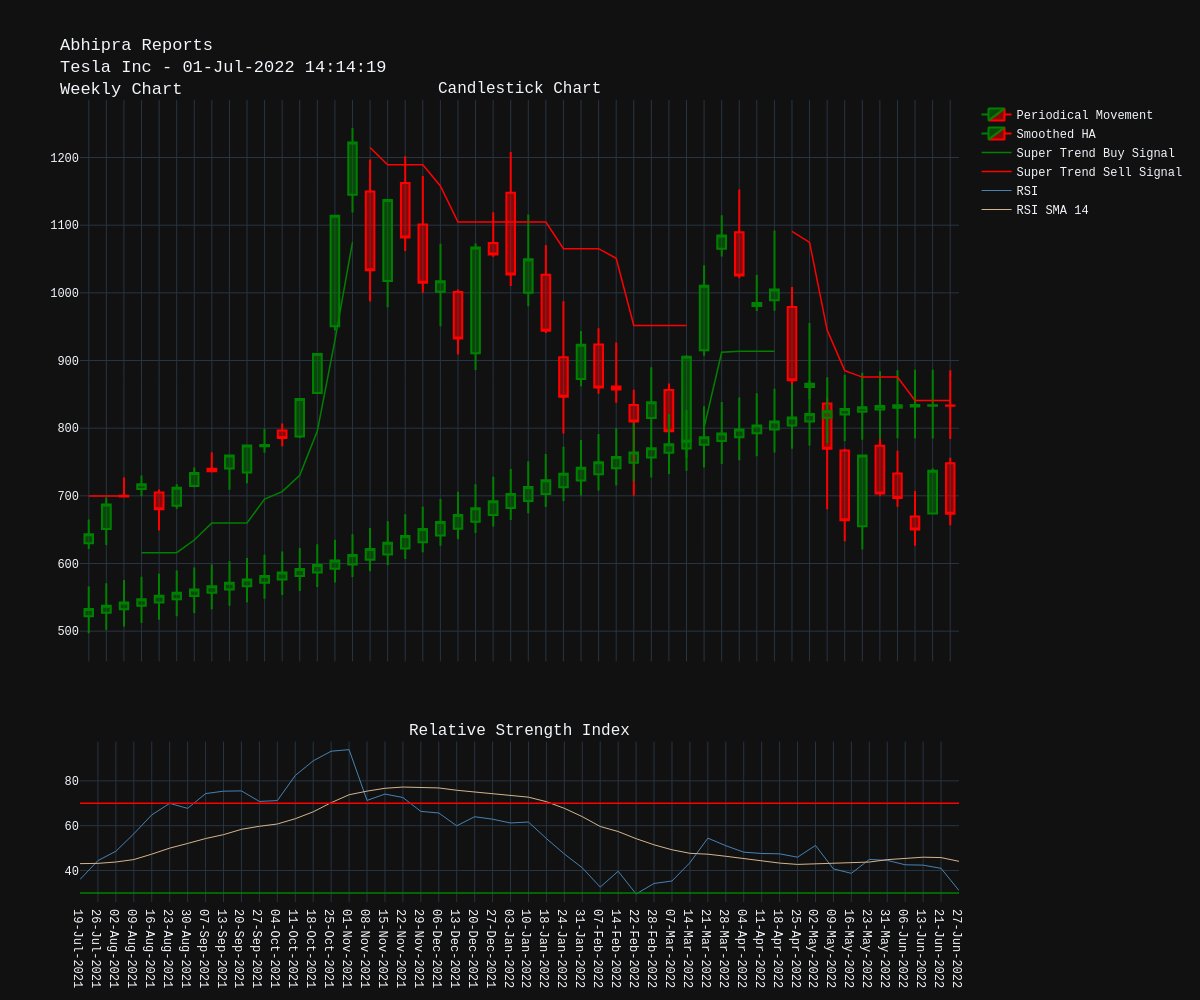 Tesla Stock Price: CrowdWisdom360-Insights
Tesla Announces Office Closure in California
EV manufacturer Tesla has announced an office closure in the California city of San Mateo.
This office closure reported over 200 job cuts of employees who reportedly worked on analyzing data from the vehicles.
Tesla Amongst the low EV quality, battery vehicles: Report
Reportedly, the global chip shortage and supply chain woes have hampered the electric vehicle (EV) quality of Tesla.
Per consumer research and analytics firm JD Power, Polestar was the last one, while Tesla ranks seventh from the bottom of its list.
JD Power hosts over 226 problems per 100 Tesla vehicles.
Why did Tesla Stock Tumble today?
Wedbush's Daniel Ives recently estimated a figure of roughly 250,000 units which is much lower, according to a recent FactSet poll cited by Investors Business Daily, of up to 272,000.
Tesla stock started to fall soon after Deutsche Bank analyst Emmanuel Rosner cut its price target from $1,125 to $1,250, but he maintained the buy rating on them. 
In addition, he also slashed his vehicle delivery estimate for the second quarter from his previous estimate of 310,000 vehicles to 245,000
Tesla investors are getting a little curious because Rosner and a few other analysts have also reduced their estimates for Tesla's Q2 deliveries
Tesla has also reportedly shut down its San Mateo office, and laid off over 200 employees. 
Tesla Shuts Down Its Shanghai Plant for a Couple Weeks
Reportedly, Tesla's plant near Shanghai is going down for a couple of weeks; this downtime will surely add some uncertainty to Q3 numbers.
Surprisingly, this downtime isn't about Covid, but it's to upgrade equipment.
This Gigafactory in Shangai has been either shut or operating at reduced capacity since late March due to Covid outbreaks.
Tesla Announces Stock Split For the Second-time in 2 Years
To get rid of their four-digit price tags for a single share, many companies have been lately implementing stock splits
Tech Giants Amazon.com and Alphabet have announced 20-for-1 stock splits which will push their share prices back down to around $100 per piece.
Following the suit, Tesla has also announced a 3-for-1 stock split, second time in two years.
Back in April, Canadian e-commerce disruptor Shopify (NYSE: SHOP) announced an unusual 10-for-1 split
Tesla Stock Price: TESLA Q1 Earnings 2022:
Tesla Q1 Earnings

• The automotive revenue is $16.86 Billion with an 87% jump.
• The EPS (Earnings per share) climbed 246% to 3.22.
• The total revenue is $18.76 billion.
• Earlier, Tesla also reported their Total deliveries of 310,048 for the first quarter.
Read about LUCID Stock Forecast
Tesla Stock Predictions: TSLA Social Media Sentiments
| | | | | |
| --- | --- | --- | --- | --- |
| Period | 7 Days | 1 Day | Trend | |
| Net Social Media Sentiment ($TSLA) | -4.5% | -7% | Lower | |
Tesla Stock Forecast: Competition performance
It is no surprise that the EV market doesn't work on a monopoly. Tesla faces serious competition from companies like Ford, Volkswagen, BMW, Kia and Hyundai, all of whom are looking to enter the electric vehicle arena.
A few months ago, Volvo confirmed EVs will account for 100% of its vehicle sales by 2030. Auto giant General Motors estimates to increase its all-EV fleet to 30 models by the end of 2023. It plans to offer only light vehicle EVs by 2035 while Ford now expects to sell only EVs in Europe by the end of this decade. In addition, Volkswagen announced plans to develop six battery factories in Europe.
Tesla Stock Forecast: Diversification policies
Tesla has announced plans for diversification into countries like India, which may prove to be an immense market for the automaker. The company has been in talks with the Indian administration and is expected to begin operations in the country by the later half of 2021.
The company also expects to expand the reach of its ever-so-famous Gigafactory for battery and vehicle production. With well-established Gigafactories in Nevada, New York and Shanghai, the expansion will lead to similar factories being developed in Berlin and Austin.
Tesla Stock Prediction and Forecast: Battery Production
At the moment, Tesla partners with Panasonic for the production of its vehicle batteries. The Gigafactory in Nevada produces Lithium-ion batteries, with the 2020 target of 35 gigawatt-hours per year of cells as well as 50 gigawatt-hours per year (5.7 MW) of battery packs. This production could be equivalent to supplying 500,000 Tesla cars per year
In home-powered solar batteries, Tesla competes with LG, Orison, Sonnen, SimpliPhi Power, and Sunverge. In electric grid energy, the contenders include Strata Solar, AES, and NextEra.
Nasdaq.com-Top Analyst Reports for Tesla
Read Apple Stock Forecast here