Tesla Stock News: What is ahead after the recent correction?
Telsa Stock News: Tesla Corrects 10% Despite Couple of Positive News

Tesla Stock News on January 6: Analysts at Bank of America raised their price target on Tesla stock to $1300 a share, while its great, but bank is stuck with its neutral rating on Tesla. It is baffling as, if the banker is right about its price target, Tesla stock could do lot better than "neutral" this year as it could gain as much as 24%.
Another good news comes from Michigan, where battery startup Our Next Energy, more popularly known as ONE, conducted a road test of a Tesla Model S sedan retrofitted with a prototype ONE battery and the car delivered 752 miles in a single charge. What is more incredible is that this feat is achieved in ice cold December, where the performance of the battery is considered weakest.
Sadly, Tesla stock is not showing enthusiasm and has corrected 10% from the recent high and the stock is continuing to crumble along with other growth stocks. The main reason suspected behind the move are the fears about Federal Reserve's planned interest rate hikes and bond tapering that can kill the bull market.
Telsa Stock News: Tesla Beats Delivery Estimates for Q3
Tesla Stock News on January, 2: It delivered 936,000 cars in 2021, an 87% increase in the auto sales from the year before allaying fears about the chip shortage that has disrupted the auto production around the globe. In the fourth quarter alone, company delivered 308,000 vehicles, a 71% increase from the same quarter a year before.
It thrashed the analysts' estimates of 266,000 cars in the fourth quarter and about 855,000 for the year. Model 3 sedan and Model Y hatchback contributed majorly for this overwhelming success. The number shows that while there are many competitors in EV space, Tesla continues to dominate market share.
While, the shortage has forced the automakers to idle some plants for weeks at a time and stopping them from meeting their annual targets, Elon Musk, Tesla chief executive, said that company was overcoming the chip shortage by switching to the type of chips that were more readily available and writing new instructions, or firmware to be embedded into the chip.
However, Tesla did not give country wise breakup for its sales, but it is expected that recent growth has been propelled by sales in Europe and China. Tesla is also working to open factories near Austin, Texas and Berlin to support and sustain its rapid growth.
In the third quarter, company earned $1.6 billion, more than double of its earnings in all of 2020, which also marked its first profitable year. Recently, Tesla's market value crossed $1trillion making it more valuable than automakers like Ford Motors, BMW, Toyota and many others combined. Also, Tesla price closed at $1088.12 on Wednesday, up from just under $700 at the end of 2020.
Also Read: Tesla Stock Forecast
Tesla Stock News: Tesla Criticized for Opening Showroom in Xinjiang

Tesla opened the showroom in Urumqi on New year's eve. But people are divided over the step, while some in US criticized the opening, but the move is welcomed by some in China.
China has been accused of slavery and genocide against the Uyghur minority group in the resource rich western region of the country. Recently a bill signed into law by President Joe Biden in December required firms to prove that goods imported from Xinjiang were not produced by forced labors.
However, the opening of the new Tesla showroom was widely welcomed by users of Weibo social media platform. Last year US microchip giant intel received backlash after it sent letter to suppliers not to source products or labors from Xinjiang.
Notably, the Xinjiang is home to Xinjiang is home to many of country's Muslim Uyghur population and there have been allegation of forced labor and possibly genocide. In December 2020, the BBC published investigation based on similar research that thousands of minorities are forced into manual labor in Xinjiang's cotton field.
Tesla Stock News: Future Outlook for Tesla

Whether split or not, Tesla has a bright outlook ahead as it announced deals to sell cars to company Hertz and Uber and other global firms will likely accelerate such orders. Also, Tesla's management of chip shortage has been better than rivals and while valuations may or may not make sense, but momentum surely does matter.
Definitely, split will be bullish for the stock as Tesla has a massive retail following like a cult and investors would likely embrace the split and share price will likely touch $1000 and above level again after the split just like it did recently after last year split.
Tesla gained $144 billion in market cap on Monday alone which is roughly combined value of Lucid group and Rivian automotive. But company also received backlash after forced recall concerning 475,000 Tesla Vehicles.
Overall, Tesla has a head start for 2022 and it is retailers darling stock, but Tesla needs to justify its dominance by above par deliveries to meet its valuations.
Tesla Stock News: Tesla Latest Tweets
Originally tweeted by BSMARKER (@bs_marker) on January 10, 2022.
Stock: $TSLA – Tesla
*** NEWS ***
QuantumScape Stock Declines Further. Should You Buy?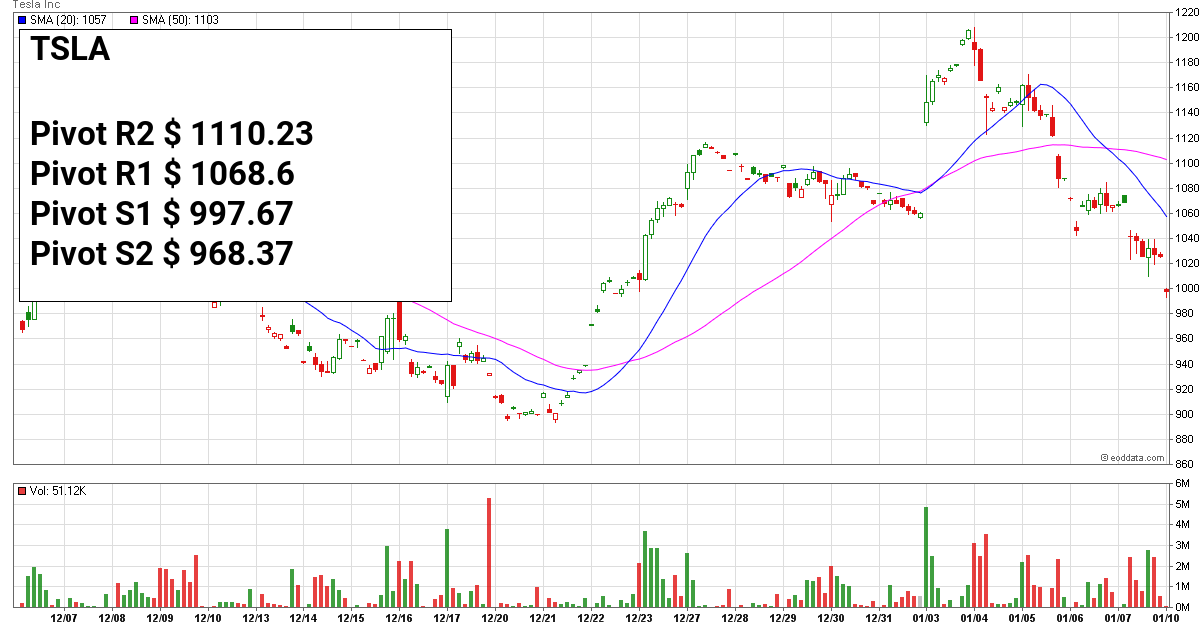 Vineet Agarwal
Note: Crowdwisdom360 collates Predictions and data from all over the net and has no in-house view on the likely trends in the Stocks or Crypto Coins. Please consult a registered investment advisor to guide you on your financial decisions.