VLO Stock Forecast: Is the optimism here to stay?
VLO Stock Forecast: Latest Price
VLO Stock Forecast: Performance Chart
| | | | | |
| --- | --- | --- | --- | --- |
| Stock Name | 5 Days | 1 Month | 6 Months | 1 Year |
| VLO | -6.97% | -21.45% | 17.68% | 50.87% |
VLO Stock Forecast: Latest Tweet
Originally tweeted by 18 Decimals (@Linklevosstwins) on July 15, 2022.
I want to buy $VLO bc I know refineries had a banner quarter.. but earnings fall just after the fed hike…

Thoughts?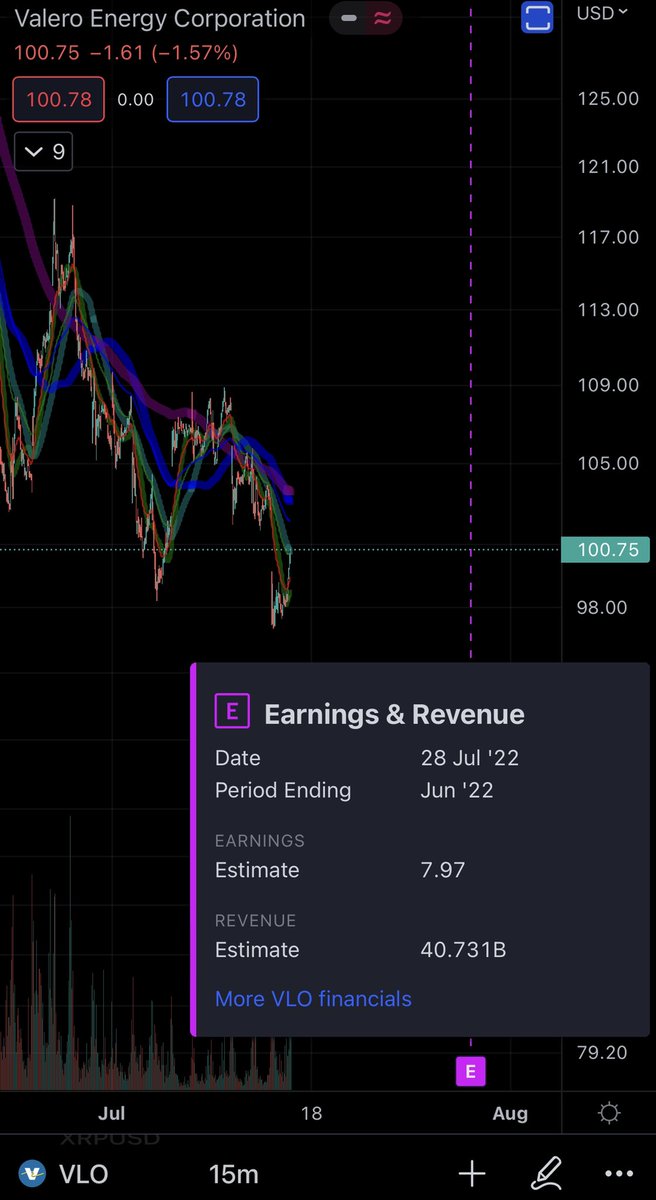 NVAX Stock Forecast: Today's Outlook
| | |
| --- | --- |
| Indicator | Trend |
| Overall Outlook | Negative |
| Market Data |  |
| Market Cap | Lower |
| Technical | Sell |
| Trading Volume | Lower |
| Crowd's Wisdom |  |
| Google Search Volume | Lower |
| Social Media Sentiment | Lower |
Also Read: Chevron Stock Forecast
VLO Stock Forecast: Latest News
Russia is one of the world's largest oil exporters and due to its invasion of Ukraine, the prices of oil were boosted. To ease this effect, the Biden administration offers contracts to release a record 1 million barrels of oil per day of oil for six months from SPR (Strategic Petroleum Reserve). Valero Energy Corp will be one of the firms to take this delivery in late August.
The next earnings date for Quarter 2 of 2022 of Valero is expected to be on 28th July 2022.
After the announcement of a new buyback program worth $2.5B last week, the stock climbed 1.1%
Oil refining companies and labor union representatives demand the costs of the nation's biofuel blending program be lowered. The administration is facing pressure due to rising prices and had written a letter to VLO among others accusing them of cutting back on refining to gain profits. These complaints were denied.
VLO Stock Forecast: Latest Video
VLO Stock Forecast: Is it a buy or sell?
VLO price was seen rising today by 0.7% but, the volumes fell which could be a warning sign. However, that might be a short-term trend – This is reflected in the technical analysis which suggests "Sell". However, It has received a rank of "1" on Zack's indicating a "Strong Buy" – It also ranks in the top 1% of its industry. With rising fuel prices and soaring consumer costs, it is better off than its industry – It is one of the 14 firms that are going to be awarded contracts from the U.S. strategic reserve in sales, which will help them to ease prices.
On Friday too when the S&P500 lost 0.1% and Dow lost 0.2% while VLO gained 0.7%. Valero Energy. It is expected to post EPS of $7.1 representing a 1385.4% year-over-year growth. Moreover, investors were optimistic about the approval of a $2.5B buyback. This stock is expected to perform well over the coming months and analysts recommend "Buying" this stock.
VLO Stock Forecast: Google Trends
VLO Stock Forecast: Technical Analysis
– Nandini Panchal
Note: Crowdwisdom360 collates Predictions and data from all over the net and has no in-house view on the likely trends in the Stocks or Crypto Coins. Please consult a registered investment advisor to guide you on your financial decisions